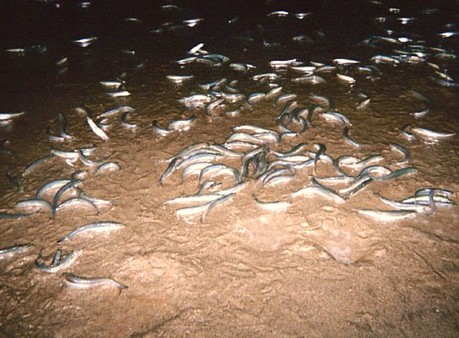 The grunion don't keep little calendars hanging somewhere beneath the waves, right?
Of course they don't. But that they're making their 2010 debut on the beaches of Southern California on St. Patrick's Day charms. After all, it is a night a lot of people are looking to go out and stay out late while having a memorable time. Which you can do with the grunion. Only with the grunion, one is in for more sea foam than beer foam.
In short, when you hear the words "grunion run" it means essentially one thing: sealife shimmying onto land. It's when multitudes of silvery fishes start coming ashore each spring to stir up some milt and egg action.
Milt is important in the whole making-more-grunion process, in case you're not up on your milt-based terminology. And you know what eggs do. Right?
The grunion runs are ruled by the phases of the moon, so of course there are only a few during a season. Wednesday, March 17 is the first, and, as in years past, Cabrillo Marine Aquarium offers a nighttime program built around the wondrous event.
Dress warm, plan to push it late into the wees, and show with a fiver if you're an adult. Everyone else is a buck.
You'll be prepped at the San Pedro aquarium with all sorts of good, grunion-y information well before the fishes start showing.
The last run at Cabrillo is July 27, and there are about nine nights in all for 2010. Not a lot. We'd plan now. Because when's the last time you saw such an unusual natural wonder happening right before you?
Copyright FREEL - NBC Local Media