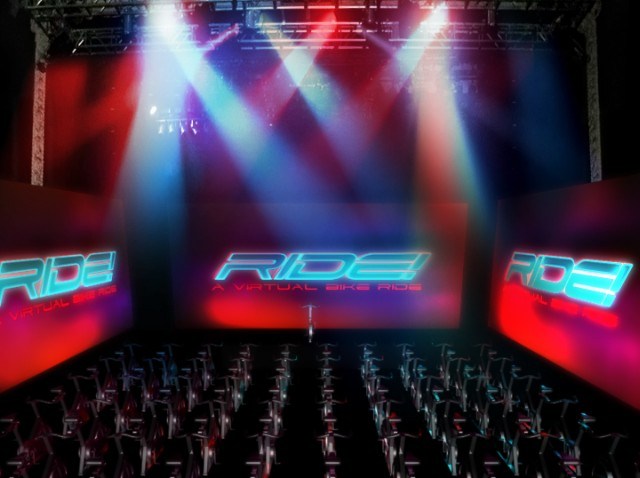 What's that ting-ting-ting bike bell in the distance? It's Ride! pulling into a Hollywood nitery, complete with dozens of stationary bicycles, club-ready lights and music, and high-thrills heart-pumpery.
This had to happen. We didn't know this had to happen, but now we know, and we think it must. Cycling in clubs. The pocket chain goes bike chain. Handlebars vs. handlebar mustaches.
Ride! A Virtual Bike Ride is making for Avalon Hollywood on Sunday, November 8th. There will be the typical nightclub tropes, the boisterous energy, the wall-to-wall tunes, the strobe-y candy-hued lights. And stationary bikes. Many, many stationary bikes. Two hundred stationary bikes.
And visual trips through various environments like beaches, mountains, and other wild places.
So, our first thought: How will everyone who wants to try this try this? Because once a bike is taken, well. A bike is taken. But, Ride! has the answer. There will be six sessions throughout November 8th (including daytime). Best sign up for your session now, because if you do that math, that's still only around 1200 spots for the day. Tickets are $30.
The Ride! people say this is the first outing for the venture. Tempted? Better find your sparkliest spandex and those glow-in-the-dark sweat socks, party people.
Copyright FREEL - NBC Local Media