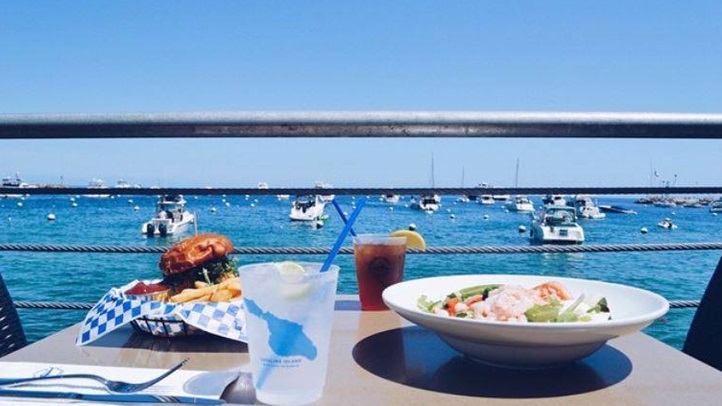 FOOD IS THE THEME: One cannot venture out to Catalina Island without crossing water, whether in the air or by boat (though we suppose if you dug a super-secret James Bond tunnel beneath the Pacific we'd have to rethink our statement). All of that water-crossing often provokes thoughtful conversation among the water-crossers, conversation that frequently turns to food. You might touch upon what the denizens of the ocean below you consume, a source of constant fascination among humans, or you might talk seafood, sustainability, favorite dishes, and must-tries. But what if you were traveling to the beloved little burg not simply for a day sightseeing in the sunshine but to specifically try the tastes of the island's main town? Then you, food-adoring friend, would probably be headed for Taste Around Avalon, which sets the grills to high on Wednesday, May 13.
ONE NIGHT ONLY: You'll need to be on Catalina midweek, on May 13, in the evening, to take part in the cuisine-focused crawl. Consider, though, that after four hours of foodieness -- those four hours run from 5 to 9 p.m. on the 13th -- you'll have a handle on what a swath of Avalon's eateries serve up. No longer, on trips over to Catalina, will you shrug when your friend asks "where shall we eat?" You'll know. The happening, which just marked its first decade in 2014, is about the voting, too, so you'll need to purchase a not-at-all-pricey voting card, and then tuck away a buck or two for each taste you take. Last year's winners included Lloyd's of Avalon (dessert) and Avalon Grille (non-alcoholic drink).
AVALON RESTAURANT WEEK: If you want to stay island-side from May 14 through 20, you'll can dig into the town's Restaurant Week, which arrives with prix fixe deals at Bluewater Avalon, Luau Larry's, and Antonio's Pizzeria & Caberet.
IS CATALINA JUST CUISINE? That's a big part of an island daytrip, lunch or dinner, but it is also the Casino Building and history and Airport of the Sky and those magical flying fish, which are revving up for their annual warm-weather season even as we type this.
Copyright FREEL - NBC Local Media