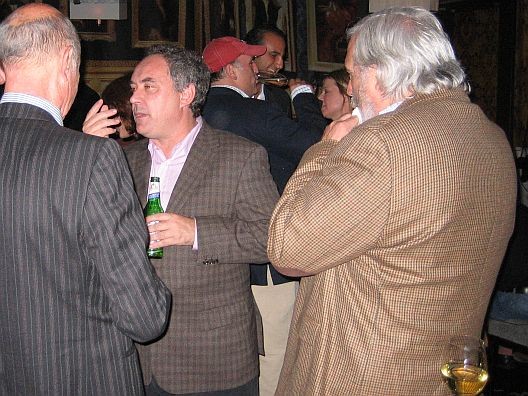 On Sunday night Ferran Adria and Jose Andres closed out the mega New York Wine & Food Festival, but last night they were right here in Hollywood mixing with fellow chefs, fans, media and one very tall Laker. Sam Nazarian and his new buddy/partner chef Andres feted Adria and his new 600-page "A Day at El Bulli" at S Bar, which turned out to be a lovely party with Nancy Silverton, Alain Giraud, David Lentz and an about-to-pop-any-day preggers Suzanne Goin all there to meet and greet the Spanish chef. We wanted to ask Chris Cosentino from San Francisco's Incanto if he came down just for this soiree but didn't get the chance.
After nibbling on Katsuya sushi and fried veggie sticks with wasabi aioli, Nazarian gave a speech in half Spanish, Andres introduced Adria, Adria (with translator) joked that he's not sure if Andres can cook, but at least he speaks well, and then gave props to Los Angeles and basketball player Pau Gasol. The book, filled with gorgeous photos of what many days are really like at El Bulli, were handed out later---thankfully, it's very heavy---and the chef signed them. Rumor has it Adria and company went to Mozza for dinner. Of course. The chef will be at Cook's Library today from 3:30pm-5pm signing copies, and then he's off to Australia for the rest of his world tour. Total rock star.
· Ferran Adria Has Landed [~ELA~]For more stories from Eater LA, go to la.eater.com.
Copyright EATRL