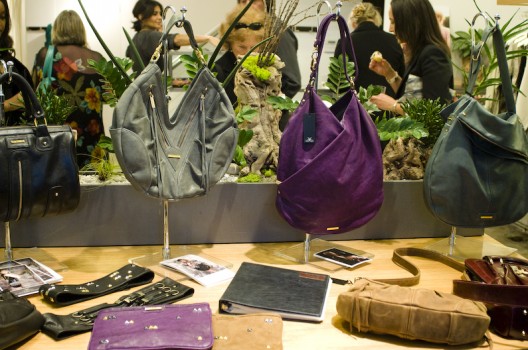 Angeleno belt and bag label Jack Rabbit celebrated its International Design Award for the new collection with a get-together at Heist, one of Abbot Kinney's trendy boutiques, on Friday night. We examined designer Mollie Culligan's fashion-forward designs while nibbling at tasty treats from Joe's Restaurant. Some impressions:
1.) Bags! We found the innovative detailing on Culligan's designs utterly winning, especially the external zipper pocket hidden in a diagonal pleat.
2.) Belts! Culligan has been building on her two classics, the wide-waisted belt and the multi-wrap skinny belt (we're up to quadruple now). A surprising development was the bow-tie belt (a leather bow as buckle) and the Anna-Rose belt (a skinny belt with a big leather flower attached to it), which are taking the bohemian spirit of the label in a softer, more literally feminine direction.
3.) Crowd! The turn out was great. When we left close to the end of the evening, the crowd was still growing and amusing itself.

For more stories from Racked LA, go to la.racked.com.
Copyright RACKL