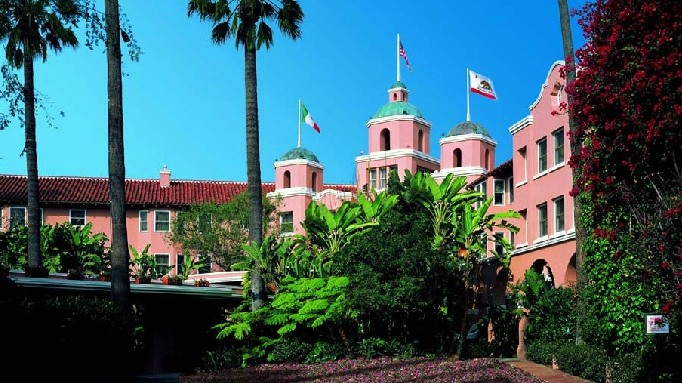 If you've ever seen an aerial shot of Los Angeles from the early part of the last century, it can be rather surprising to spy the small group of trees and buildings just above where the heart of Beverly Hills now stands. For around those trees and buildings? There's mostly nothing. No West Hollywood, no Miracle Mile, nada.
Oh, and that small group of trees and buildings? The Beverly Hills Hotel.
The fact is the famous hotel preceded much of its namesake city, and much of what surrounds its namesake city, by quite a few years. Yes, history buffs, Beverly Hills definitely existed when the hotel was built, but it was notably on the wee side and wasn't incorporated until after the hotel's debut. The hotel itself opened on May 12, 1912, which means it is now gearing up to mark its centennial. And in true BHH style, it will be a wowza and likely tickled pink.
Let's start with the 100th anniversary specialty cocktail menu called These Walls Are Talking. Yep, the Polo Lounge is offering the beverage menu, as is Bar Nineteen12. And while several of the drinks are inspired by movies and the stars who frequented the property's hallmark bungalows, we must make mention of the cocktail that is, wait for it, one hundred dollars.
Oh, Beverly Hills. Never change! Never. Change. Your swank-o-sity charms us to bits.
There's also a grand celebration weekend from June 15 to 17. Stars will show and people will hobnob and the entire affair is sure to send things straight off the swank-o-sity meter.
And the Centennial Celebration package that's on at the hotel includes some 100-year-themed goodies.
And, yep, there's a glossy book marking the 100th, because the hotel is so very pink and so very pool'd and so famously bungalow'd. It's just made for fancy photos.
So happy 100th to the Pink Palace. Nobody has done bold stripes and bungalow getaways and palm-lined driveways quite the way you have. Few hotels can claim a hang as legendary as the Polo Lounge. And should every Oscar wake up within your walls after his or her big win? Several of them have. That's braggable, for sure.
Follow NBCLA for the latest LA news, events and entertainment: iPhone/iPad App | Facebook; | Twitter; | Google+; | Instagram; | RSS; | Text Alerts | Email Alerts
Copyright FREEL - NBC Local Media