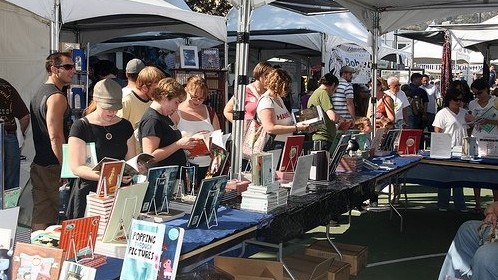 There's nothing especially little about the West Hollywood Book Fair, but, when set on a shelf alongside other major literary festivals, it does present a slightly more petite profile. It takes place on a single day. And there aren't multiple author pavilions spread out over a mile. And the book sellers? You can get through 'em all if you put your mind to it.
But we compliment those qualities, for they make this particular book fair leaner and tighter and in many ways highly manageable. It has had a decade now to get it right, so figure the fair's formula is solid.
Also? Celebrity authors. A whole caboodle of 'em. Christopher Rice, Jackie Collins, Gigi Grazer, Sam Irvin and Kevin Sorbo will all appear at the Sunday, Oct. 2 festival. (West Hollywood Park is the location.)
Two more loves? Pay nothing to get in and pay nothing to park. We're putting that dough straight back into a book purchase.
Let's also pause here for some more WeHo-based, book-type hooraying. In a day when libraries are much in the news, and not always in a positive fashion, the city has built a new state-of-the-art facility. It debuts on Saturday, Oct. 1.
West Hollywood Book Fair? Hi? Don't think we're quibbling on your size and girthiness. You're perfect, is what. And this spot is pretty cool, too.
Copyright FREEL - NBC Local Media