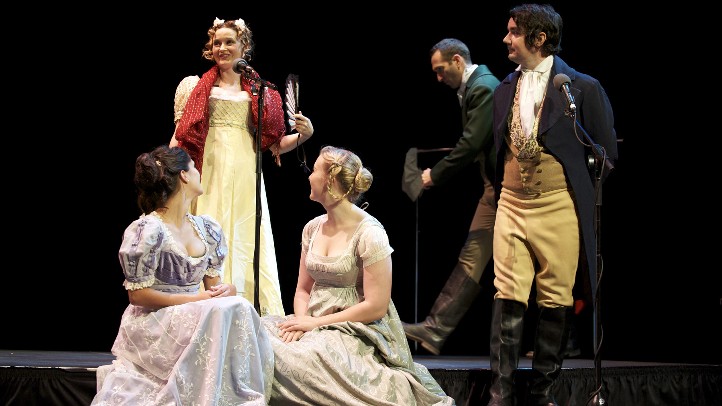 While books throughout time have captured many a human heart and imagination, it is hard to overstate readers' continued devotion to Jane Austen's "Pride and Prejudice."
One might look to the fact that a new miniseries or feature starring one Elizabeth Bennet and Mr. Fitzwilliam Darcy seems to debut if it is a month on the calendar. One might look to the fact that sales stay robust two centuries after the book was written. And one might look to the contemporary fan fiction community eager to know just what happened to Lizzie and a certain handsome (if prideful) gentleman after the tale wrapped.
"Pride and Prejudice" is the keeper of all keepers, for many people, and it is turning 200. To mark the grand occasion, LA Theatre Works is not raising a glass but a microphone -- actually several -- to record a production of "Pride." The Nov. 15-18 shows at UCLA's James Bridges Theater will be rather unusual; the cast will be fully costumed, with empire-waisted frocks and dapper waistcoats and all, but there will be microphones on the stage to record the proceedings.
Sirius XM Satellite and public radio will later air the show.
We can only imagine this will be the first of many "Pride and Prejudice"-themed events over the next year; can teas and dances be far behind? It is, indeed, a world thousands of readers have longed to enter. Again, the fan fiction community? Thriving. Movie adaptions? Likewise.
We certainly give movie anniversaries their due around our city, so it feels refreshing to say "Happy 200th" to a book so many of us know the opening line to by heart: "It is a truth universally acknowledged, that a single man in possession of a good fortune must be in want of a wife."
Follow NBCLA for the latest LA news, events and entertainment: iPhone/iPad App | Facebook; | Twitter; | Google+; | Instagram; | RSS; | Text Alerts | Email Alerts
Copyright FREEL - NBC Local Media