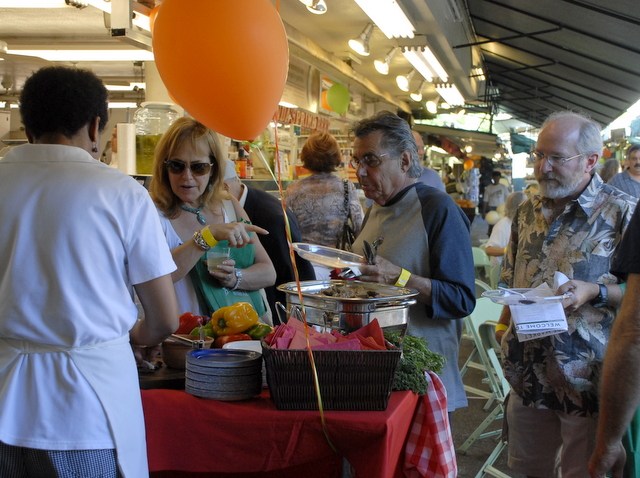 There are places we all like around this town, and then there are those handful of special places that we love so much we usually begin a sentence with "don't even start me about that place," because once the starting starts the stopping never arrives.
The Original Farmers Market at the famous corner of Third & Fairfax is a major "don't even start me about that place" place for many Angelenos. The 76-year history. The people to watch. The cuisines of many nations to eat. The tchotchkes to browse.
The way you can sit with a pitcher of beer and a friend for the better part of the day, and leave a better, if slightly beerier, person.
Farmers Market turns 76 on Tuesday, July 13 (actually, if you want to get really technical, and we do, it turns 76 on July 14), and the landmark is doing it up with Taste of Farmers Market. The good people of the Market did Taste last year, and it was enormously, packed-to-the-edges-of-the-clocktower popular. So, it is back. For a ticket -- there are various levels, but $25 is the start -- you get to go around and try samples from all the stalls.
Oh HELLO.
Yep. It's good stuff. It's birthday-worthy stuff. And there are a few tickets left, word has it. Get 'em at the door, say the Farmers Market people. Everything runs from 5-9 p.m. on Tuesday, July 13.
H.B.O.F.M.! Do NOT even start us about that place.
Copyright FREEL - NBC Local Media