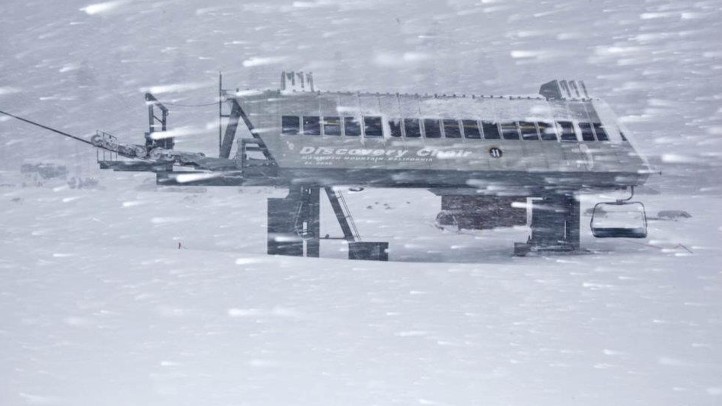 OH, HELLO: Yep. Southern California is getting its first real winter-like rain (we know that it in no way means the cold weather has actually arrived, and we know that we may well all be in tank tops and shorts come Halloween, but still. Brrr.) It's the talk around these parts, which got us to thinking: What's happening up the mountains? Um. Well. The picture above is happening up the mountains. Mammoth Mountain, to be specific. It was snapped on Wednesday, Oct. 5. Feeling chillier? Feeling like you might need to dig out those skis, soon? Several people have probably shared that mutual thought today.
AUTUMN JOY: If you still haven't soaked up your autumnal leafy looking-about longings, there's time, but the days are ticking. (We're not sure if days actually tick, but the word nicely conveys the quick passage of hours in our mind.) Check out this helpful blog that clues in foliage fans living in the Golden State. If you want to see more Mammoth snow, there are several photos on the mountain's Facebook page. Bet you'll find some info on the season ahead in that neck of the woods, too.
2011 OPENING DAY: It's soon. How soon? Nov. 10 soon. Eye all the festivities.
Copyright FREEL - NBC Local Media