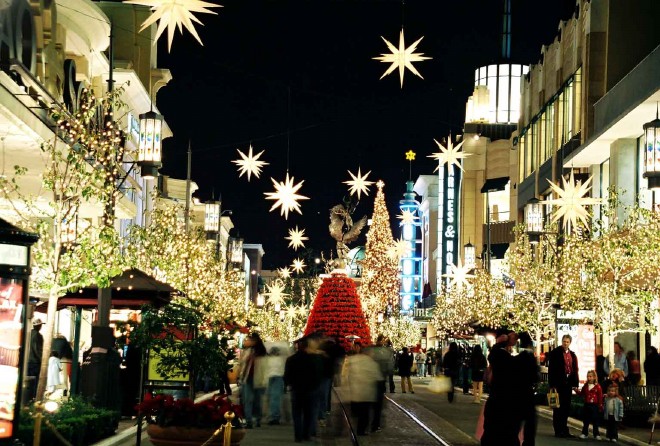 It seems like it was only yesterday that we were pausing to say "now wait. You're telling us there's a mall coming to the middle of LA and there's going to be a trolley inside of it? That moves? And carries people? With a conductor? Say what?"
But yesterday is now a decade ago, or more, to be accurate. And The Grove, the outdoor shopping center that served as a bellwether of malls to come is now marking its 10th birthday on March 14. (One such inspired-by mall, of course, is The Americana at Brand, which is a sister property to The Grove; but Grove-i-ness has surely spread far-and-wide around the nation.)
Of course, there've been posh outdoor malls before. And shopping centers have boasted green spaces for at least a half century. But The Grove, created by Caruso Affiliated and placed plunk against the historic Farmers Market, combined a lot of existing elements with a deft eye.
We weren't at the first planning meetings but we expect they went something like this: Throw in some dancing waters and a double-decker trolley as well as a mix of flagship-y stores. Score an "American Girl" store and invite Cirque du Soleil and various movies to perform and promote. Welcome people with dogs. Welcome people to come and play in the park with no requirement to buy. And do it all essentially in the middle of the city, or just about as middle as things go around our sprawling megalopolis.
There's also the little matter -- or not little matter -- of December's faux snow and that famous Christmas tree. We've heard the tree variously described as the largest in LA, the largest west of the Mississippi, and the largest on the planet, all within the same lights-admiring crowd. (It's more the former than the latter, but that doesn't dull its impressiveness.)
So happy 10th, Grove. See you by the dancing waters.
Follow NBCLA for the latest LA news, events and entertainment: Twitter: @NBCLA // Facebook: NBCLA
Copyright FREEL - NBC Local Media