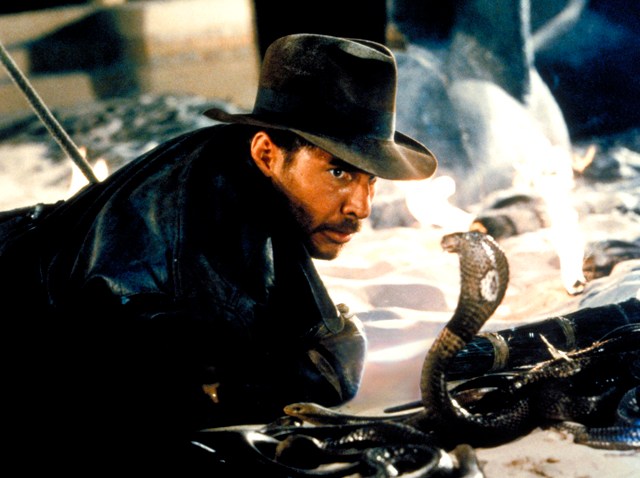 Would the famous non-snake-loving proclamation made by Indiana Jones be quite as harrowing without the moody tomb music backing it up?
Of course not. That's almost a non-question. But we ask it ahead of the John Williams movie music concerts at the Hollywood Bowl, because it is on our moody-tomb-music-loving mind. The great film scorer will be under the shell on Friday, Aug. 27 and Saturday, Aug. 28.
The snakes scene in "Raiders of the Lost Ark" is a perfect way to illustrate Mr. Williams' more unsung moments. Oh, he has many moments that are plenty sung, of course, and rightly so; but we'd wager that when most people think of the man's music, they think of the thundering "da da dun daaaaa" moments, like when Indy is running for the plane at the beginning of the film.
But the tunes from the Well of Souls -- aka Snakeland -- are just as powerful, if less "da-da-dun-daaaa"-y. Quieter and more apt to lend neck prickles. In short, we adore the big thundering bits, and the moodier, mellower bits, too.
Mr. Williams, of course, is also the musical genius behind "Star Wars" and "Close Encounters of the Third Kind." Should you wear your Leia buns to the Bowl? Sure. But not your Chewie get-up. Too hot.
Copyright FREEL - NBC Local Media