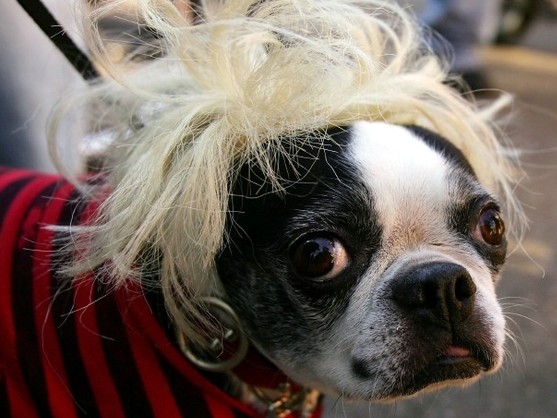 The Haute Dog Howl'oween Parade, Justin Rudd's big, barky and tongue-drool-alicious Fido-Fest, attracts over 600 furry contenders every October.
Rudd, a well-known Long Beach activist who is a champion of several local causes, calls out canines of every stripe to parade in full costume in the Belmont Shore area. Is it a spectacle? To put it lightly. And the money raised goes to helping hounds in need.
We're guessing what you're thinking. Is this one of those deals where a few dogs turn out in droopy bowties and a chew toy is given away as top prize? Not at all. Howl'oween attracts major media love -- including some national shout-outs -- and the outfits are outlandish, creative and way over the top.
Several people coordinate, down to the teeniest detail, their own costumes with their dog's get-up (we fondly remember a Dorothy, Tin Man, Scarecrow and Lion one year, the Lion being the only non-human of the bunch).
And the top prize for best canine costume is a year's supply of dog food from Natural Balance Pet Foods and LaunderPet. Top human costume snags a year's supply of Eukanuba. Good stuff.
The 2009 parade is Saturday, October 31st at 2:30PM. There are entry fees, which you'll want to eye, but all include a t-shirt.
Mr. Rudd notes on his web site that the route has changed for '09, but if you still meet at the traditional starting point of Livingston Park in Long Beach you and your pup are set. Now to work on your woofer's sparkly, "pick me" get-up...
Copyright FREEL - NBC Local Media