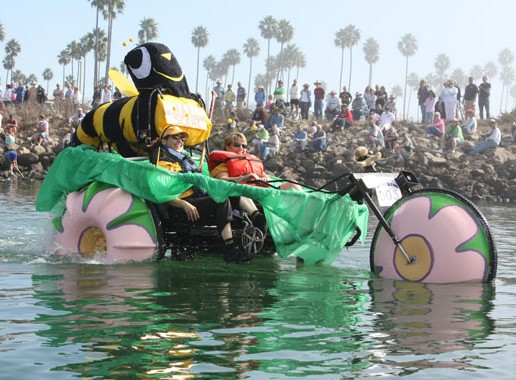 It isn't enough that Southern California has one of the most famous, or infamous, car cultures on the planet. Nope. We have to put wheels on art, on things that usually don't move. We're also prone to decking out vehicles built for roaming, at low speeds, golf courses. And we often break out the hearses come Halloween week.
Whether it is serendipity, synchronicity, or just one of those two things, there are three interesting parades around the lower part of the state just ahead, including...
Kinetic Sculpture Race: Take a bike, and some art, and some other moving parts, and some handle bars, and find some friends, and make the whole thing awesome to look at, and then make the whole thing move. These on-the-go wonders will be getting wet and muddy and sandy around Ventura Harbor on Saturday, October 24th. Turning Point Foundation is the beneficiary.
Golf Cart Parade: We don't think we're being untoward when we say the good people of Palm Desert love their golf carts. Like luuuuv them. And when the temps start to cool down in the desert city cart enthusiasts deck out their machines and show 'em off around town. If you haven't seen a golf cart covered in dozens of white balloons, well then. You haven't seen it. Best head east on Sunday, October 25th.
Halloween Procession and Show: That elegant, elongated vehicle, the hearse, is the automotive star of this Orange County parade, but a host of other cars are welcome. Dr. Demento is the human star of the parade, and the whole vroom-vroom goes down at the OC Fairgrounds in Costa Mesa on Sunday, October 25th. There will be other seasonal goings-on. Costumes, candy, thrilling scares. Basically, you'll be Halloweening it up.
Copyright FREEL - NBC Local Media