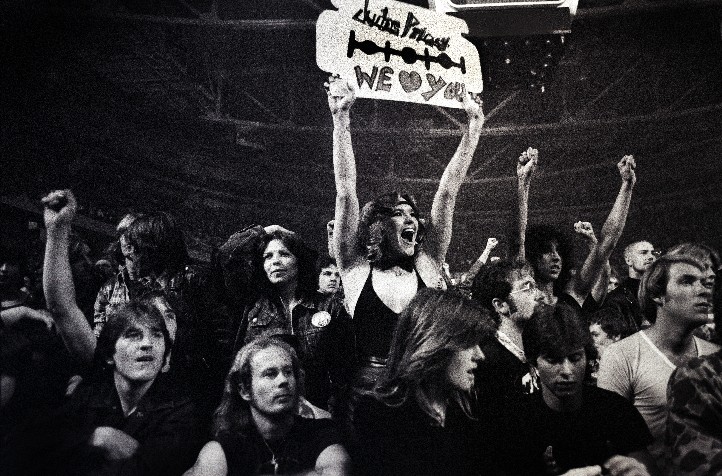 Time travel back with us, if you have a moment. Do you? Good.
You're 14. You're in your bedroom. Your hi-fi is playing your favorite band at very, very top volume. Your parents continue to implore you, through the door, to turn it down. You choose to not comply.
Now, if you were to have said, "hey, Mom and Dad? Guess what? One day, waaaay in the future, in April of 2012, I'm going to go to the Grammy Museum, where there will be a whole exhibit on this kind of music, which is called heavy metal, by the way," would they have believed that such music could ever have its museum heyday?
And would they have said "there's a Grammy Museum in the future?"
And you would have had to assure them that, yep, heavy metal would one day get its lofty due at a future place called the Grammy Museum. "Golden Gods: The History of Heavy Metal" debuts at the Grammy Museum on Wednesday, April 11. It's an exhibit chockful of props and costumes and posters and, yep, those all important hand-scrawled lyrics to the classics we now sing along to in our cars.
The show is set to run through February 2013.
And yes, the various subgenres will be explored. We just asked a metal-enthusiastic friend what his favorite sub is -- hair or thrash or what? -- and he answered, emphatically, "nerd metal." Meaning that music sub-genres often have their own sub-genres (but that's true in all things, surely).
And yes, your mom and dad should definitely attend, too. We bet they've come around to the power of the mercilessly delivered power chord. Heck, they may have been the one to loan you your first metal LP.
Follow NBCLA for the latest LA news, events and entertainment: Twitter: @NBCLA // Facebook: NBCLA
Copyright FREEL - NBC Local Media