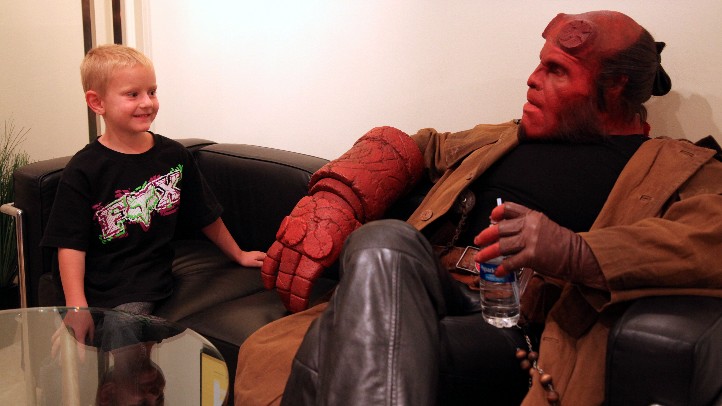 If we're going to the movies during the summer blockbuster season -- and a few of us are, is the word -- then we see the creative talents and hard work of make-up effects houses much on display.
But what those locally based make-up shops do when they're not creating giant lizards and spooky ghouls and other monsters made from latex and foam is a mystery to many. Once every so often, though, one gets a little peek inside the magic and finds that it is, well, magical.
Acclaimed Glendale make-up effects house Spectral Motion recently made up Ron Perlman as Hellboy, a character the actor has played twice in the Guillermo del Toro-helmed films. But this time the multi-hour make-up was for a different reason: A young boy wanted to meet the hulking comics star and Ron Perlman and Spectral Motion were happy to oblige.
Zachary's dream meeting was set up by the Make-A-Wish Foundation.
Some details from the day? Mr. Perlman sat for several hours in the make-up chair as he did when the movies were in production; adding to the excitement was the fact that Zachary, too, got made-up in Hellboy's famous red make-up.
Let us also give big props the make-up artists who gave their talent and time to transforming the star and Zachary: Mike and Eden Elizalde and Lufeng Qu and the whole Spectral Motion team. We'll applaud you, for sure, next time we see you in some film's credits.
Follow NBCLA for the latest LA news, events and entertainment: iPhone/iPad App | Facebook; | Twitter; | Google+; | Instagram; | RSS; | Text Alerts | Email Alerts
Copyright FREEL - NBC Local Media