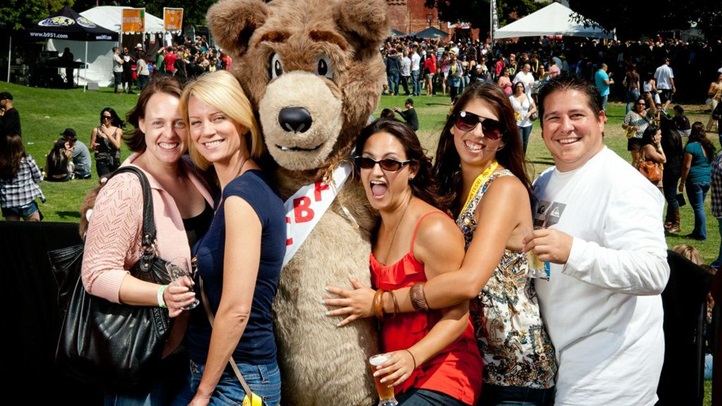 TWO WAYS TO SIP: Beer festivals can come in as many flavors as beer, but the bulk of them fall into two categories. The first is the small-scale, huddle-close-to-a-bar tasting, the one where a maker of bespoke brews lines up four or five glasses and speaks at length about each one. The setting is intimate and the variety limited, but there's a certain gather-'round quality to the proceedings. Then there is the larger, traveling, take-to-the-road craft brew bonanza. This can be a one-time thing, set up on a lot or large lawn, or this can be something even bigger, like the California Beer Festival, that sudsy stalwart of late-summer sipping. How much bigger is the California Beer Festival? Well, "California' is in its name, which should signal its mammoth-o-sity. Dozens upon dozens of purveyors of foamy libations show from hither and yon to pour samples. And there's a much-photographed mascot, too: a bear named Burt. Some 70 craft brews are on the pour in total, meaning you'll see a wide-swath of brewmakers from around the state.
THE FEST HEADS SOUTH: There was a north-of-San-Francisco party a few weeks back, and Santa Cruz is next up on Aug. 10. But San Dimas is on the festival radar -- that happens on Saturday, Sept. 7 and Ventura is up on Saturday, Sept. 21 and Sunday, Sept. 22. Tickets are $45 for the San Dimas affair, which takes place at Bonelli Park. And be sure to stash $25 to pay for your designated driver friend, who will get a ticket and a meal from any of the vendors.
AND WHO IS SET TO BE THERE? Hangar 24 out of Redlands, Central City, and Grand Teton Brewing Co. are three of the suds-making maestros.
Copyright FREEL - NBC Local Media