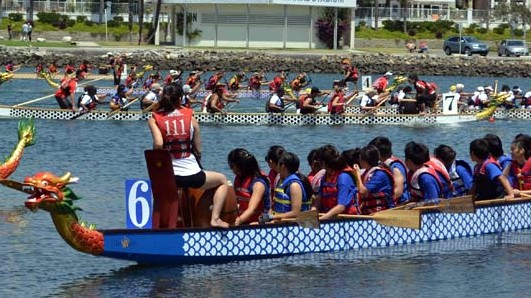 The dragon boats? They're definitely the headline-makers of the long-running Long Beach water race that happens at the end of each July . (Not to mention the fact that dragon boats have been raced in China for well over 2,000 years -- definitely headline-worthy.)
But the beautiful boats are only one element to the weekend that bears their name. For, yes, the Long Beach Dragon Boat Festival is very much about the rowing and the teams and the captain at the front with her drum -- there are drums on dragon boats, as you likely know -- but the party is also about a lot more.
Like? Chinese martial arts displays and the arts and acrobatics and eats and dancing lions on land. (We like having two different lions to admire, the ones of the water and the ones making merry on the shore.) It's a convivial weekend where people, yes, do a lot of boat spectating, but there are several doings away from the water, too.
The action happens at Marine Stadium on Saturday, July 28 and Sunday, July 29.
There are quite literally races throughout the day, happening every eight minutes or so, with a short break for lunch. So if you can only come, say, from 10 a.m. to noon, you'll see close to a dozen and a half races.
And one of our favorite bits about a classic dragon boat? The gorgeous tail. The head rightly gets a lot of attention, but be sure to admire the tail work when you're out by the water, too.
Follow NBCLA for the latest LA news, events and entertainment: iPhone/iPad App | Facebook; | Twitter; | Google+; | Instagram; | RSS; | Text Alerts | Email Alerts
Copyright FREEL - NBC Local Media