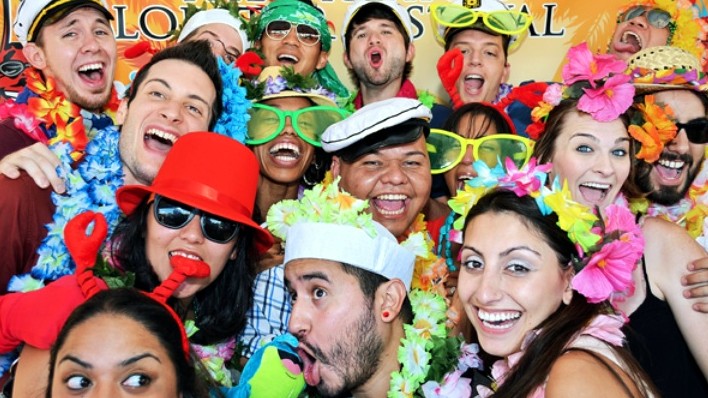 September may summon the turning of the maple leaves in other parts of the world, but in Los Angeles it means another red-hued sight: lobster. Lots of lobster, and lobster festivals, and people sporting lobster-bedecked bibs, and people wielding giant foam claws, and diners rocking giant, lobster-shaped hats.
It's lobster festival season, in short, and Southern California boasts a string of buttery gatherings all in a row. The first up? It's The Original Lobster Festival in Long Beach, and it melts the butter and lines up the dinner rolls from Friday afternoon, Sept. 7 through Sunday, Sept. 9 at Rainbow Lagoon.
Admission is ticketed separately from the lobster deals, so you'll need to peruse and see what you want. We did see the words "lobster on a stick" though the lobster feast is pretty classic: a Maine lobster, dinner roll, watermelon, coleslaw, and butter-dipping sauce.
Lobster rolls are available, too; we have a sneaking theory that even those eaters who claim to have a mayonnaise block warm to the particularly moist New England favorite.
The Original Lobster Festival also brings with it tunes, kid entertainment, and a beach bar. Plus? This is the fest that produces all of the wacky photos of friends in over-sized sunglasses and lobster hats. Things are downright convivial, if you're posing for one of those.
Now, who is next on the lobster roster? San Pedro starts up next weekend -- that's the mondo Port of Los Angeles lobster party -- and Redondo follows the weekend after. Happy butter dipping, lobster lovers.
Follow NBCLA for the latest LA news, events and entertainment: iPhone/iPad App | Facebook; | Twitter; | Google+; | Instagram; | RSS; | Text Alerts | Email Alerts
Copyright FREEL - NBC Local Media