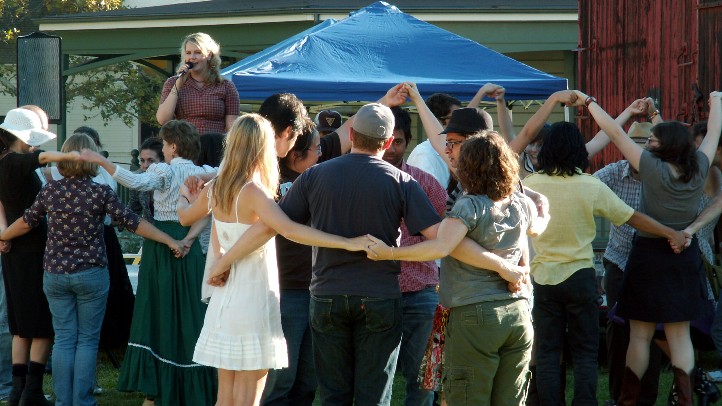 Heritage Square, sitting in the stately way it does alongside the 110 near downtown, can exude a certain proper Victorian air.
Perhaps it is all the colorful turrets and hefty, century-old buildings; perhaps it is the costumed people who so frequently visit the historic-minded park to parade with their parasols and show off their waxed mustaches.
But the square can kick up its heels and act a little less than proper now and then, regardless of its regal mien; and that truly happens every late summer, when Heritage Square throws the Old Time American Square Dance.
The Big Buck Breakdowners, set to break out the fiddles and dance-able swing tones, will serenade the Saturday, Sept. 1 event (there they are, pictured at right). The cost to join the square dance is five bucks, and, in perfectly old-timey, relaxed fashion, attendees are welcome to pack picnics.
"Beginners are encouraged" at the dance and kids are welcome, too, so don't talk yourself out of this one; you totally remember the do-si-do and other classic moves from grade school. What was the one where you flatten one arm on top of the other and circle your partner? We were pretty good at that one and that's not easy, what with the skipping backwards and all.
And is there a fruit pie baking contest? We wouldn't have asked that if there wasn't, because that would just be mean.
Soon Heritage Square'll be back to its proper laces and doilies, what with the Halloween and holiday season. But this is an night for rolled-up jeans and red-checkered kerchiefs tied around the neck. We like when the proper places let loose for an evening.
Follow NBCLA for the latest LA news, events and entertainment: iPhone/iPad App | Facebook; | Twitter; | Google+; | Instagram; | RSS; | Text Alerts | Email Alerts
Copyright FREEL - NBC Local Media