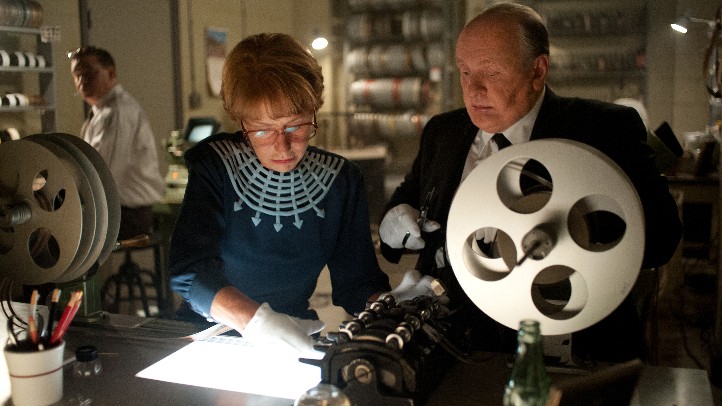 "Psycho," from its Bernard Herrmann "ree-ree-ree-ree" score to its horrifying hilltop manor, occupies approximately 13% of our collective fear-based psyches, even a half century after its release.
How it was made is Hollywood legend, as its director, a man you've likely heard of: Alfred Hitchcock. Mr. Hitchcock laid a lot on the line to bring the sad and sordid story of Norman Bates to the shower -- er, screen -- and that is a tale now set for its big Hollywood debut: "Hitchcock" opens the American Film Institute's annual festival on Thursday, Nov. 1.
The "Hitchcock" bow is a gala event at Grauman's Chinese Theatre. The director? Sacha Gervasi, the man behind the much-hailed Anvil documentary. The cast? Helen Mirren as Hitch's wife Alma, Anthony Hopkins as the devilishly dry director, and Scarlett Johansson as Janet Leigh, a bit of inspired casting if there ever was any.
Other films are ahead over the nine-day, Tinseltown-centered party: "Life of Pi" from Ang Lee is another buzzed-about entry, as is Steven Spielberg's "Lincoln," which is the closing night film on Thursday, Nov. 8.
Tickets are free to AFI Fest presented by Audi. Due to their free-ness, and due to the fact that many people covet them, especially for the ballyhooed films on the roster, there is a faq.
Let us not forget that "The Artist," the winner of the last Best Picture Oscar, made its splashy hello at the 2011 AFI Fest. Let us not forget, too, that the aforementioned horrifying hilltop manor from "Psycho" sits only a skip and a drive over the hill from the Chinese Theatre. Is there any better place to reflect on Hollywood history than in Hollywood? Rhetorical question, of course.
Follow NBCLA for the latest LA news, events and entertainment: iPhone/iPad App | Facebook; | Twitter; | Google+; | Instagram; | RSS; | Text Alerts | Email Alerts
Copyright FREEL - NBC Local Media