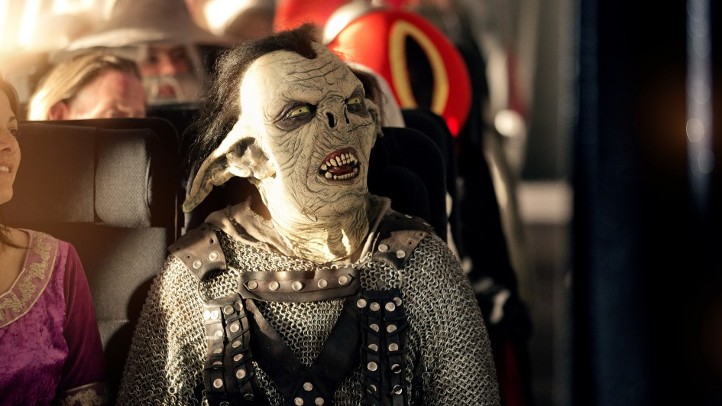 There are a lot of ways to get around The Shire and Mordor and the other whimsical lands created by J.R.R. Tolkien: wooden carts and wee boats and really fast horses from The Beyond (yep, we're thinking of those charmers, the Nazgûl).
But a Boeing 777-300ER? We're pretty sure we didn't see that flying over Helm's Deep or Rohan, but perhaps we were keeping an eye on the orcs. (One always must.) That does not mean such a vehicle doesn't exist in the world of Hobbits; one does, it is owned by Air New Zealand, and it is set to touch down in all of its Golem-y glory at LAX on Saturday, Nov. 24.
It's a magical city, right? First the Space Shuttle flies over us -- well, "flies," okay -- and next up, Hobbitsies decorating a 239-foot aircraft. And, nope, the people of the Shire will not be doing a Space Shuttle-like loop over SoCal, but rather a standard set-down at Los Angeles International Airport at 2 p.m. on the 24th.
Gate is 21; terminal is #2, and the plane will be on its way from New Zealand to London's Heathrow, so don't expect it to hang around for long. Also? A rep for Air New Zealand says the design of the Hobbit plane has been a "closely guarded secret." Meaning this stop-down will be a first glimpse for serious fans of air travel and second breakfasts. (Isn't that all of us?)
As with all flight times, there's a window, and things can shift, so plan accordingly.
"The Hobbit: An Unexpected Journey" debuts on Friday, Dec. 14 in theaters. Oh, and you saw the Air New Zealand safety film going around a few weeks back, right? Fantastic.
Copyright FREEL - NBC Local Media