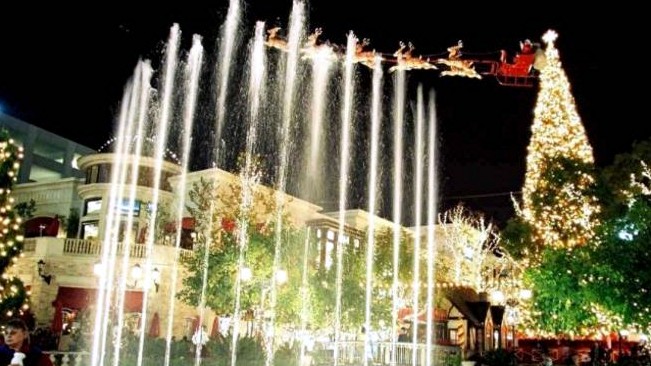 The Sunday before Thanksgiving is almost a mini-holiday in its own right.
A lot of holiday-themed sporting events and festivals land on that day, or the day before. We have a non-controversial theory that more people are off, or have family in town, and are looking for stuff to do.
We told you. Non-controversial.
That particular Sunday has also belonged to The Grove for several years, at least 'round these parts. The outdoor mall has traditionally lit its big tree on that date, and invited a lot of celebrities to come by and carol and wave at fans.
And there are a lot of fans. Droves. Droves at the Grove. Let's call it highly bustling.
Now the Sunday before Thanksgiving has some competition, in the form of the Sunday before the Sunday before Thanksgiving. That's the new date for the tree lighting -- Nov. 13, if you don't have a calendar handy -- but the staples remain.
And those are? The faux snow. Santa's candy-laden house. And celebrity appearances (think Gavin DeGraw, Jackie Evancho, and Colbie Caillat, among others, in 2011).
Time is 7:30 p.m., but arrive early, arrive early, arrive early. Oh? And arrive early.
If you're wondering when The Grove's Glendale cousin'll do its holiday lighting, that'll be Thursday, Nov. 17. The Americana at Brand has its own super-duper program planned. Twinkly lights! Circus fun! Yes to all that.
And need we say it? Arrive early.
Follow NBCLA for the latest LA news, events and entertainment: Twitter: @NBCLA // Facebook: NBCLA
Copyright FREEL - NBC Local Media