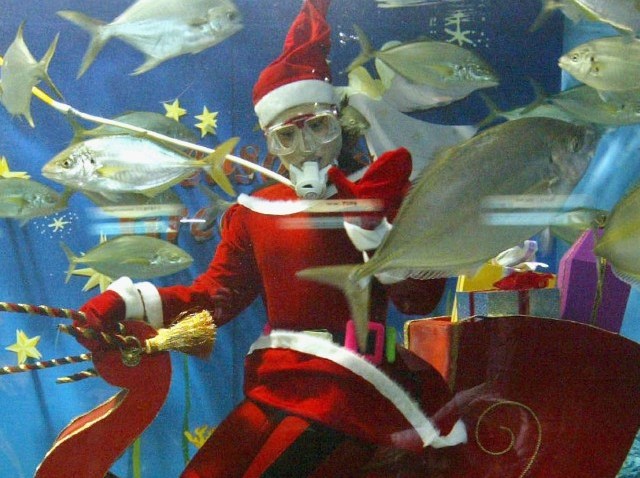 Few things cheer us like seasonal to-dos at an aquarium -- after all, you can't exactly stick a reindeer-festooned scarf on a flounder, so you've got to get creative -- so we're happy that the Aquarium of the Pacific is again welcoming the season in its own way.
The Long Beach aquarium is hosting Twelve Days by the Seashore -- a peek at 12 different animals that live where water meets land -- as well as a number of discounted late nights between Christmas and New Year's. We like the discounted late nights at various places, especially when the relatives may be in town. Helps everyone get out of the house for a couple of hours, take a breather.
Check out the whole schedule to see what merry event meets your needs.
Shamu, down at San Diego's Sea World, is also getting into the spirit, with his own fancy moves choreographed just for Christmas; the show is called Shamu's Holiday Night. There is LED and caroling to boot. To fin?
Sea World, for 2009, also has a Polar Express attraction -- the 4-D Experience -- as well as Clyde and Seamore's Night Before Christmas, which is a show spotlighting the park's pinnipeds. Pinnipeds, one of our favorite words.
And if you're lucky enough to be making Monterey on New Year's Eve, the aquarium is doing a fancy party. Tiny glimmery hats next to tiny glimmery fishes. That feels right.
If we owned an aquarium, we'd teach the crabs to do a little kick-line, a la the Rockettes. That should be snap, right? Maybe crabs have never done this because no one has ever showed them how. We can only assume they want to learn.
Copyright FREEL - NBC Local Media