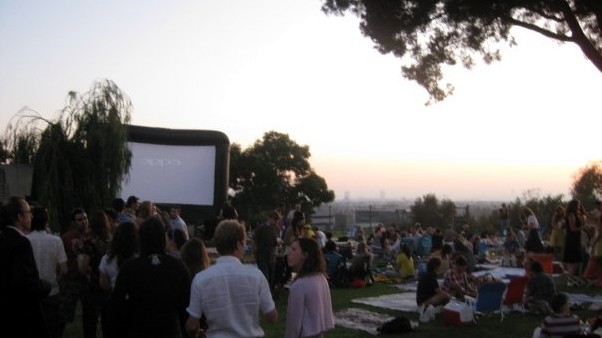 When Halloween is on a Monday, Sunday can feel a bit left out.
Figure that a lot of the major to-dos will happen on Saturday, and a few on Halloween proper. But where's the love for Halloween Eve? Who is making Sunday spooky this year?
Barnsdall Art Park, that's who (or what, rather). The good people behind the Hollyhock House-close green patch are throwing a movie night, as they are wont to do, though most of their outdoor screenings happen in the summertime. But Oct. 30 feels just right for "A Nightmare on Elm Street."
Cue that particular metal-on-metal sound the film did so well. Chills.
We not only like the date but the location. Barnsdall is juuuust about halfway between two of the screamer's most famous locations. The "Nightmare" house is in Hollywood on Genesee -- remember when it was up for sale a few years back? -- and the school from the movie is none other than John Marshall High, which is just a scoot and a hop away from the park. We know, no map'll call Barnsdall the centerpoint of those two spots, but let's call it a fine location for a Freddy-fearful screening.
A ticket is $25, and it includes three tickets for wine or beer (City Sip is pouring). Heirloom and Border Grill will be doing the food-truck thing. There's also a cheaper ticket if you don't intend to have a drink.
It's 17+ for the movie. Of course. It's really scary. And 21+ to enjoy the beverages. Of course. That's the law.
Since it is October, and not the height of July, you'll want to blanket-windbreaker up. We'd personally look for a green-and-red-striped sweater to rock. If only there were some good costume shops and Halloween make-up stores around.
Follow NBCLA for the latest LA news, events and entertainment: Twitter: @NBCLA // Facebook: NBCLA
Copyright FREEL - NBC Local Media