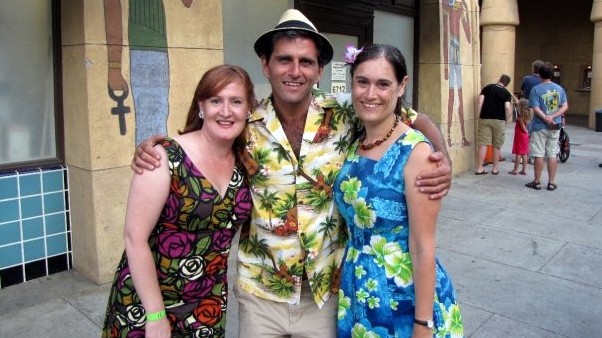 Tiki style and the Egyptian Theatre in Hollywood aren't necessarily the first pairing people might make, but when you consider that the historic venue throws an annual South Seas party each summer, the duo makes perfect sense.
And the next Luau Night is up at the Tinseltown landmark on Saturday, Aug. 4. It is a bit about what's up on the screen -- the Egyptian is a theater, after all -- but the music, the food, and the dress all go into making it a popular yearly shindig.
First up, on the screen: A documentary looking at Tiki flair in pop culture. This won't be about the guy who keeps a couple of themed glasses on his home bar; nope, think of the artists and writers and people who have built entire callings around the celebration of island cool. Yep, Shag is spotlighted the film, as is the great Martin Denny.
Outside, in the courtyard? Tunes by King Kukulele & The Friki Tikis. The Polynesian Paradise Dancers will perform as well. And there's a dinner, too, that you may want to pre-order, just to make sure you get your slot. And a bar? Yep, there's a bar. Oh, Tiki drinks: How we long for you in these warm, warm days.
Most importantly, you will want to wear your flower-bedecked shirt or island-ready dress. Why wear the office slacks to a sea-sweet luau? No one wants that, right? Think celebration and Tiki-trendy.
The Luau Dinner and the movie is $30.
Follow NBCLA for the latest LA news, events and entertainment: iPhone/iPad App | Facebook; | Twitter; | Google+; | Instagram; | RSS; | Text Alerts | Email Alerts
Copyright FREEL - NBC Local Media