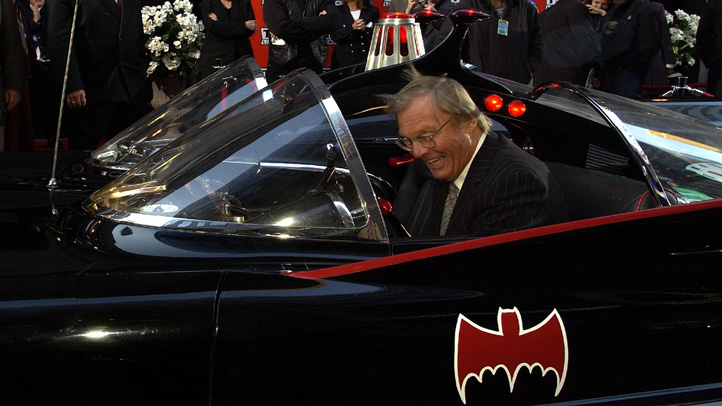 The man famous for turning Batman in a TV pop culture icon was given the 2,468th star of the Hollywood Walk of Fame Thursday on Hollywood Boulevard in front of the Guinness World Records Museum.
Adam West was joined by guest speakers Seth McFarlane, who produces the Fox animated series "Family Guy," for which West is the voice actor for Mayor Adam West, and radio personality and fellow "Family Guy" voice actor Ralph Garman. Hollywood Chamber of Commerce President Leron Gubler hosted the event with a special appearance by The Batmobile.
"We are thrilled to honor Adam with this prestigious award. Fans have been waiting for this special day for many years," Gubler said in a news release from the Hollywood Chamber of Commerce. "Adam West fired up the billion dollar Batman franchise: the golden years and the classic Batman, the Bright Knight. He deserves his place of honor on our famed Walk of Fame."
West, who was born William West Anderson on Sept. 19, 1928 and raised in Walla Walla, Wash., began his career over 50 years ago as a disc jockey and television show host.
In 1959, he moved to Hollywood after landing a contract with Warner Brothers. That same year he made his feature film debut opposite Paul Newman in "The Young Philadelphians."
His TV roles that followed included appearances on "Maverick," "Bonanza," "The Outer Limits,"'Gunsmoke" and a co-starring role for a season on "The Detectives."
Then in 1965, producer William Dozier handpicked West to play the role of Batman for the ABC TV series. This campy role would breathe life to the famous character from a comic book series and become part of a pop-culture phenomenon in the 1960s.
West holds the Guinness World Record with 156 individual screen appearances as Batman -- the most appearances by any actor as the famous crime fighting superhero.
Follow NBCLA for the latest LA news, events and entertainment: iPhone/iPad App | Facebook | Twitter | Google+ | Instagram | RSS | Text Alerts | Email Alerts