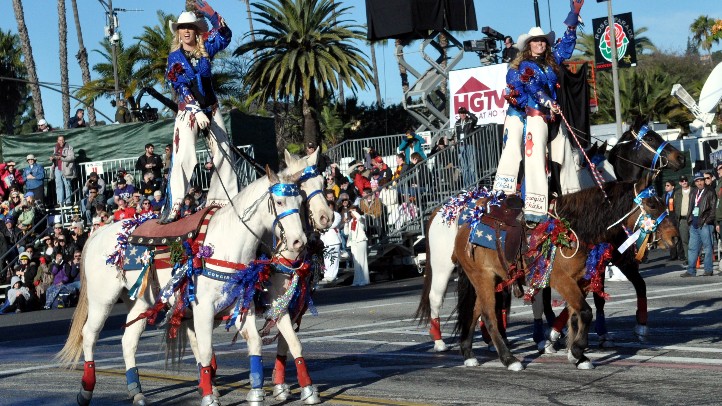 The Rose Parade is known for a lot of things -- famous Grand Marshals and hallowed history and all of those fans that grab curb in the wee smalls -- but for many people it is all about the flora and fauna.
You know the flora part, the thousands upon thousands of buds that decorate the massive floats. And the fauna? All of those beautiful horses that clip-clop down Colorado Boulevard. (Yep, there's an occasional pooch riding on the floats, so we tip our hat to the dogs, too.)
If the fauna part is your favorite, we'll guess that Equestfest is as much a part of your Rose Week routine as the parade. It's the annual day spotlighting the maned, behooved, flick-tailed stars of the Tournament of Roses, and their talented riders and trainers. And the 2011 date? Friday, Dec. 30.
There are a few things to note. One, it's in Burbank, and the Los Angeles Equestrian Center; not too many Rosey events leave the Pasadena borders, so that is worth knowing. Two? You'll "(l)earn about tack and various breeds," so there is an educational component to the day, in addition to the admiring of all the animals.
And three? The word "jousting" is on the poster. Oh yes it is. So are the words "open paddock." It's a great day for horse aficionados.
Cost is $15, parking is $5, and you'll want advance tickets. Equestfest, presented by Wells Fargo, is on Dec. 30 from 11 a.m. to 3 p.m.
Copyright FREEL - NBC Local Media