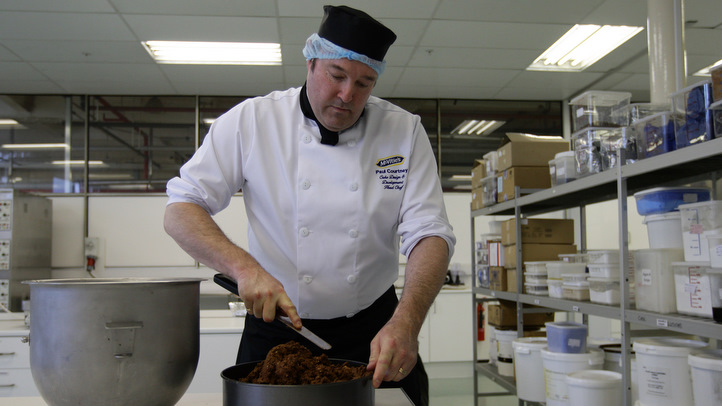 How to Make a Cake Fit For a (Future?) King

Award-winning Riverside Chef Marla Cohen has decoded the recipe for Prince Williams favorite desert --one that will be served to groomsmen for the Royal Wedding on Friday.

Cohen, who owns and operates the trendy eatery called "Phood on Main" is making and selling her version of biscuit cake all week in honor of the upcoming nuptials.

Using a little epicurean detection, Cohen believes she uncovered a recipe that is nearly identical to the one devised by former Buckingham Palace chef Darren McGrady.

If you want to make it, here's her recipe:

Chocolate Biscuit Cake- Traditional Recipe:
11 ounce /330gram package of McVities Rich Tea Biscuits-also known as "Digestives"
6oz/170 g Golden Syrup (cane sugar syrup, honey or agave syrup may be substituted)
3 oz/85 g softened butter
14 oz/400g dark chocolate-melted
5 0z/140 g raisins-presoaked overnight in 4 TBSP rum or sweet wine such as Marsala or (plumped in a pan stovetop)
Break up the biscuits until they are walnut sized pieces.

Put syrup and softened butter in a bowl. Stir in the warm melted chocolate. Add the raisins and then gently fold in the biscuits. Line a cake pan(8-10 inch) or a springform pan with waxed or parchment paper. Spread the chocolate mixture into the pan and make certain all of it is pushed to the edges to take on the shape of the pan. Cover and refrigerate overnight. Invert pan and peel off paper. Let soften for an hour or so before serving.

Chocolate Biscuit Cake….Intensely Rich Version
7 ounces Rich Tea Biscuits- broken up into walnut sized pieces
In a microwave safe bowl…..
1 cup heavy cream
1 ounce golden syrup-(you may substitute cane syrup, or agave syrup, or honey)
2 ounces butter
1 tsp vanilla extract
Heat until hot. Add:
16 ounces of bittersweet chocolate pieces or bits
Zap in microwave and stir in 45 second intervals until chocolate is melted and incorporated
Stir in the biscuits. Spoon the mixture into a parchment or waxed paper lined 8-9 inch layer cake pan or springform pan.

Refrigerate over night. Invert pan and peel paper. Let sit out at room temperature for 1 hour before service.

Phood on Main's Chocolate Biscuit Cake 2.0
Heat in a microwave bowl….
7 ounces heavy cream
2 ounces butter
2 ounces golden syrup
Add pieces or bits of:
10 ounces dark chocolate
8 ounces milk chocolate
Zap in microwave at 45 second intervals until melted and incorporated.
Stir in:
4 ounces dried cherries
3 ounces chopped dried figs
7 ounces broken pieces of McVities Rich Tea biscuits
Spread ½ of mixture into paper lined layer cake pan. Drizzle a ring of a good quality (about ¾ cup)
ice cream caramel sauce making certain not to let it go out to the edge of the pan.

Put in freezer for 15 minutes until caramel is a bit firm- and then spoon the rest of the chocolate mixture on top. Smooth out and cover and refrigerate overnight.
Invert, peel paper and let sit out about an hour before service