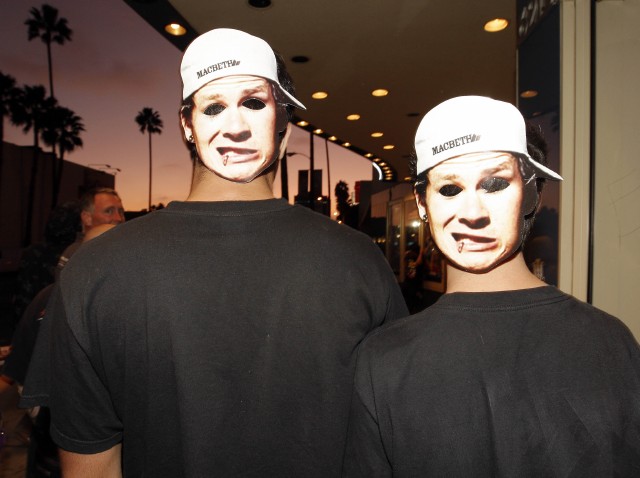 BLINK-182 CONCERT: T-Mobile Sidekick shared the marquee. The location was the Hollywood Palladium. The date was Saturday, October 10th. Also on stage: Mickey Avalon. The Tom DeLonge masks caught our eye; was everyone in the audience handed one? We'd like to see a sea of those at a show. Imagine rocking heartily away on stage only to look out and see yourself, over and over, hundreds of times.
PARTIES X 3: Eva Longoria, Edward James Olmos, Jimmy Smits, and Mayor Villaraigosa attended the Latino Film Festival's Opening Night Gala at Chinese Grauman on October 10th; Kelly Osbourne, Zachary Quinto, and Selena Gomez attended the Hollywood Style Awards at the Hammer on October 11th; and The Art of Elysium: Genesis whooped it at H.D. Buttercup on Saturday, October 10th.
FREE "ANTICHRIST" SCREENING GETS HUGE RESPONSE: It was the movie that set Cannes talking (or arguing or passionately defending). We're talking about Lars Von Trier's "Antichrist" -- starring Willem Dafoe and Charlotte Gainsbourg -- and people over here have been waiting. So it is no surprise, really, that 1000+ cinephiles wanted tickets to the free Cinefamily screening on Sunday, October 11th. Quite the demand, but the always kindly Cinefamilyians sent out an email with regrets to the many who did not make it in, with a reminder that the flick is headed for Nuart next week.
Copyright FREEL - NBC Local Media