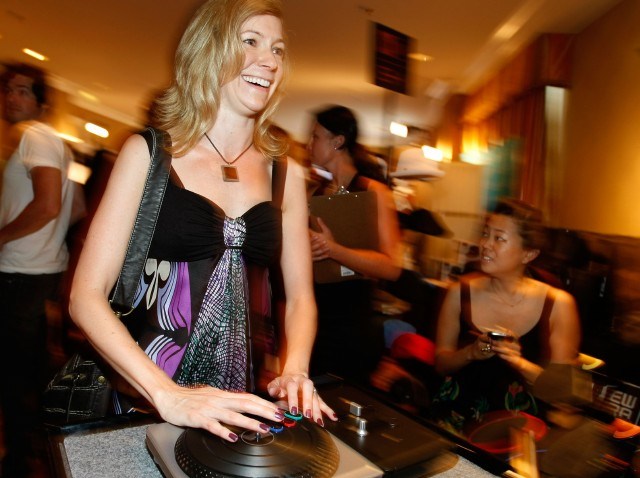 HBO LUXURY LOUNGE: Who doesn't like the pre-awards-show shindig? Nobody's lost yet. Nobody's won. There's just friendly, casual schmoozing, waving across rooms, air kisses, bringing long-time-no-see friends up-to-date on new roles. The HBO Luxury Lounge at the Four Seasons had plenty of goods stashed around -- think BVLGARI skincare products and Brahmin bags.
Who was there browsing/posing/rocking the turntable/shopping? Bret McKenzie of "Flight of the Conchords," Ricky Gervais, several "Mad Men" actors, the McCord sisters, "True Blood" star Carrie Preston, and Kellan Lutz. Might vampire-y, HBO. Fangs bared in approval.
By the by, Carrie Preston and Michael Emerson -- Ben on "Lost" -- is our favorite celebrity couple. Because, in LA, you need to have a favorite celebrity couple, or you get run to the edge of town. And this one is ours. You know Mr. Emerson must be a really sweetheart at home, storing up all that conniving Ben-ness for the cameras. Right?
DPA GIFT LOUNGE: Going down at the Peninsula Hotel over the weekend and equally as star-full. We've got to mention Terry Quinn of "Lost" -- oh, Locke -- we've stuck by you through it all -- and Neil Patrick Harris. A smolder-y Anna Gunn of "Breaking Bad" also paid a visit, as did Niecy Nash of "Reno 911." (Niecy's hair flower is a favorite, and she's never without.) We can't leave without mentioning an appearance by Jackie Collins.
Jackie Collins! High priestess of paperbackiana, we bow before you.
Copyright FREEL - NBC Local Media