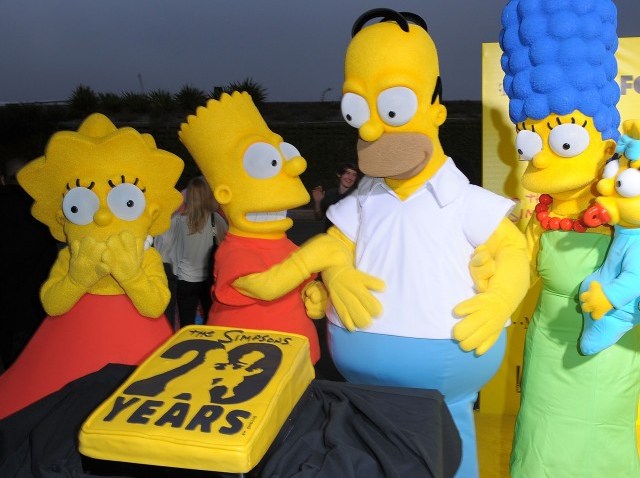 "THE SIMPSONS" CELEBRATE 20: Including the 20th outing of their annual Halloween show, arguably the most awaited episodes of the year. And we shouldn't write "20" but "XX," which is how it appeared on Homer's face in the credits (each "x" makes the perfect little dead eye). The episode aired Sunday, October 18th, but bet you'll see it once or twice in reruns. It was riotous, as expected. Crisscross!
SPIKE TV'S SCREAM 2009: A fedora'd Johnny Depp spoke at the annual scare show on Saturday, October 17th. A muscle'd Taylor Lautner spoke. And a necklace-wearing -- we should say *three*-necklace-wearing -- Keith Richards accepted the Rock Immortal Award. Also on stage: Anna Paquin in a Sookie-esque ponytail, J. J. Abrams, Morgan Freeman, Christina Ricci, Woody Harrelson, George A. Romero, Eliza Dushku, Jackie Earl Haley. And Spidey honcho Stan Lee in the center of a giant web held aloft by balloons. Now that is an entrance.
"WHERE THE WILD THINGS ARE" WEEKEND: Box Office Guru says the Spike Jonze-directed (nice) monster movie took the weekend box office crown with 32.5 million. But we're saluting the fans who actually turned up, on Friday, in full Wild Things costume. A text from a friend at the Thursday midnight ArcLight show said costumes were in evidence. Now the question is this: Are those same people wearing their furry get-ups into work today? How else to brighten a Monday? Be bold, people.
Copyright FREEL - NBC Local Media