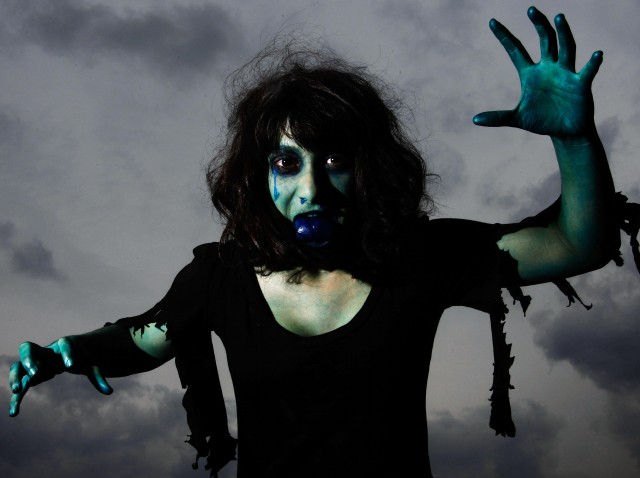 6,000+ ZOMBIES: At L.A. Live alone. Dancing to "Thriller" and groaning and growling and pawing the air. And that huge, huge number doesn't even take into account the hordes of happy shimmyists who took to streets and plazas around the globe to participate in Thrill the World at the very same time. Were you downtown shaking it at 5:30PM on October 24th? Was it a transcendent experience? Are you feeling zombie afterglow?
HUNTINGTON AFTER DARK: We, probably like you, are forever searching for the most sublime and elegant Halloween outing. Oh, we do like our zombies and our screams and our Jasons and Michaels, no doubt. But sometimes you want eerie poetry and candlelight. "Drama After Dark" at the Huntington Gardens delivered on October 24th, with little Poe plays and Edward Gorey vignettes performed under the trees. Magic. Everyone, mark their calendars for 2010.
2009 ENVIRONMENTAL AWARDS: Ginnifer Goodwin, Katie Cassidy, Olivia Wilde, Richard Branson, and Alanis Morissette were a few of the attendees at this green-nice gala. It took place at Paramount Studios on October 25th. Across town, on the same night, at Nokia Theatre, Demi Lovato, Miley Cyrus, Jesse McCartney, and Jake T. Austin were at Disney's 2nd Annual Concert for Hope.
AND...U2: At the Rose Bowl. October 25th. Were you there? And if you weren't, did every friend on Facebook seem to be?
Copyright FREEL - NBC Local Media