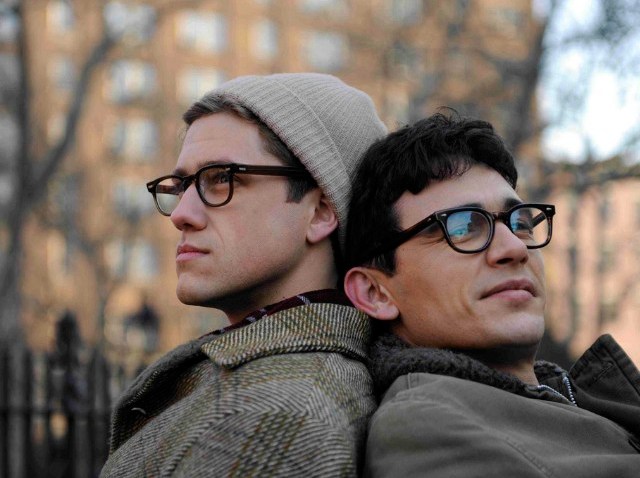 What's that excited feeling that's a little bit sad, too? Not schadenfreude. That's not it at all.
Sort of a sunny-blue. That's what we get the day before a major film festival like Outfest, when we realize that we can't see all the dozens upon dozens of films we want to, and yet, the mondo, multi-day extravaganza is just about fire up the projectors. Sigh.
But it is a good sigh we're sighing, because Outfest 2010, which runs from July 8 through 18, will have some big highlights and small gems we can be just plain sunny about, no blueness required. Like "Howl" with James Franco and Jon Hamm, which is the fest's opening night movie. A vintage flick full of literary drama.
Wait. David Strathairn is also in "Howl." Oh yes. We're still feeling that "Good Night and Good Luck" glow. You too?
Jane Lynch is receiving the Outfest Achievement Award (co-presented by "Glee" director Paris Barclay and star Chris Colfer). There will be a focus on helmers on their first time out. There will be shorts. There will be gala parties and star sightings and films we'll likely be hearing about six months from now, or a year.
Again, that sunny-blue. How to be satisfied with what we do have time to see? We'll be satisfied with this: This venerable festival has celebrated gay and lesbian filmmaking for nearly 30 years; in fact, it bills itself as the "oldest film festival in the city." That is something to be happy about indeed.
As with all week+ fests, Outfest is happening at several locations, including the Laemmle Sunset and DGA. Check the grid and get your wheres/whens/how-muches.
Follow NBCLA for the latest LA news, events and entertainment: Twitter: @NBCLA // Facebook: NBCLA
Copyright FREEL - NBC Local Media