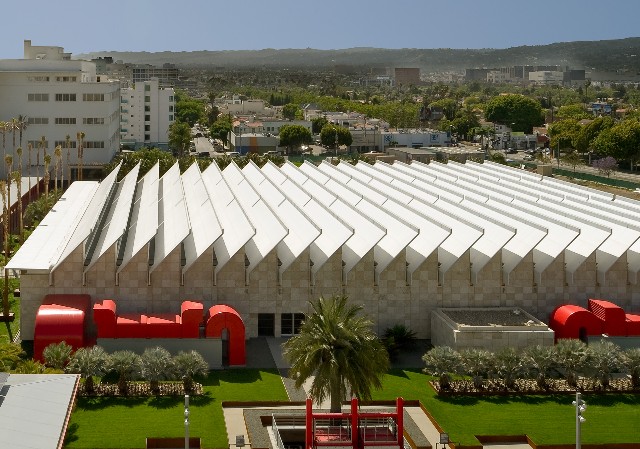 The Los Angeles County Museum of Art is up against the intersection of Wilshire and Fairfax, an area that was, shall we say, very much impacted by the volcano in the 1997 film "Volcano."
Lava, is what we're getting at. There was buckets of movie lava oozing down Wilshire.
So when one hears of a massive boulder headed for that corner, or near that corner, one might pause to wonder if filming of another action epic has once again commenced. Nope, not this time; the 340-ton megalith is part of Michael Heizer's "Levitated Mass," an epic artwork that is set to be installed on the Resnick Pavilion's north lawn on the LACMA campus.
We're excited to see this beautiful behemoth, but its journey to the museum is just about as epic. It will be chauffeured over 11 nights through four counties on a "specially designed" transporter. Arrival date? Saturday, March 10.
Link: Follow the Boulder on Twitter: @LACMARock
The boulder's journey begins at a Riverside County quarry on Tuesday, Feb. 28.
(cr: Michael Heizer, preliminary sketch for "Levitated Mass," 2011)
But the piece isn't merely about the boulder; there's also a 456-foot concrete slot running along the Resnick's north lawn. And what happens to visitors as they stroll along the slot is perhaps best experienced than explained, but let us say "Levitated Mass" will truly be one of a kind. (Spoiler? There's a 15-foot decline that goes beneath the megalith.)
And you know this, if you've visited LACMA in recent months; the construction in preparation for the artwork has been major. Which is an understatement of sorts.
There are so many whimsical and mind-expanding bits to this story and the artwork that will result, not the least of which is the boulder's 11-day, only-at-night journey. But here's our favorite element: Mr. Heizer dreamed up this mondo spectacular over four decades ago, but it took years -- decades, really -- to find the appropriate, and appropriately large, boulder.
With that in mind, might we add patience to the virtues of "Levitated Mass"? We ourselves are not acting particularly patient about seeing it completed -- we want to see it now -- but we'll look to the artist's own fortitude and foresight and we shall wait and find the required patience.
Oh, and if you're curious about just how a gargantuan boulder travels from the I.E. to the Miracle Mile, here's a map.
Follow NBCLA for the latest LA news, events and entertainment: Twitter: @NBCLA // Facebook: NBCLA
Copyright FREEL - NBC Local Media