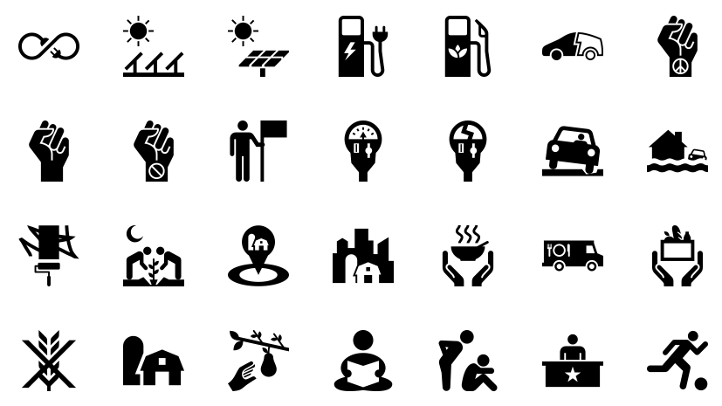 If you had to make an easily recognizable symbol that represented your life, what would it be?
Maybe you'd incorporate a baby, if you're a new mom or dad. Maybe a house, if you build homes. Maybe a heart, for love. And a dog? Yeah, we're putting a dog in ours.
It's an intriguing idea, how to symbolize a lot in a few brief strokes, and one that Iconathon is posing on Saturday, July 21, specifically about the LA River. How would you, dear Angelenos, summarize our famous urban waterway in a limited number lines, squares, or easily rendered illustrations?
The public design workshop, led by the Noun Project, will gather together both designers and interested people -- so, the rest of us non-designers, if we wish to join -- to talk about what the perfect icon for the river might be. A bird? A bridge? A combination of the two? The aim of the day is to create "universally recognized signage" for the river.
Oh, and the river? It is coming back as a place of recreational use, if you haven't heard. Nope, not all at once, but many volunteers are working to create events celebrating the LA River's natural bits and pleasure-outing qualities.
Iconathon is open to anyone, design experience or not, who loves the river and loves symbols and loves our city or simply wants to take part in an unusual, creative workshop. And if you're wondering where your group-work will later show, the symbol or symbols will live in the public domain, meaning "municipalities around the world" will have access to them.
It's on at the LaLa Gallery in the Arts District on July 21 from 11 a.m. to 4 p.m. It's free, of course -- you'll be offering your two cents brain-power-wise -- but you'll need to RSVP.
(bottom photo: jondoeforty1)
Follow NBCLA for the latest LA news, events and entertainment: iPhone/iPad App | Facebook; | Twitter; | Google+; | Instagram; | RSS; | Text Alerts | Email Alerts
Copyright FREEL - NBC Local Media