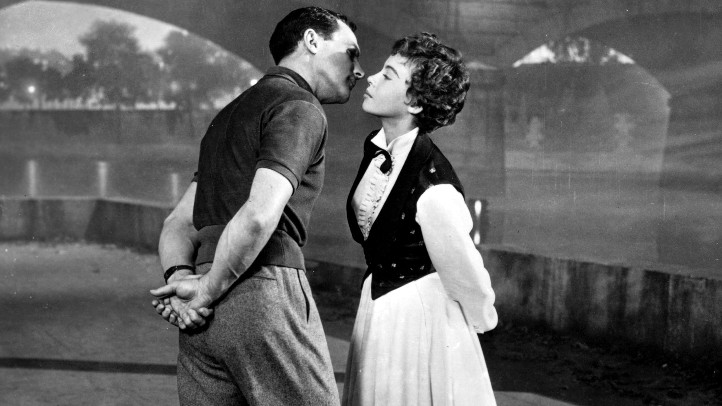 A lot of people spend a lot of the year ILY-ing all over TCM, the classic film fan's main go-to channel for movies made, well, not strictly in what's often called filmdom's Golden Age. But Turner Classic Movies does tend to show the best films from an era we'll call much missed and long gone*.
Now TCM will be celebrating the great works during its annual film festival, which is happening around Hollywood from Thursday, April 28 through Sunday, May 1. Not only will movies screen during the fest, but major stars will show. Leslie Caron opens the party on April 28; she'll be at Grauman's Chinese Theatre, along with "An American in Paris." Leslie Caron. Excuse us while we pause to ooh la la la. La la la. When it comes to Mme Caron, it can be tres difficile to wrap up the ooh-la-la-ing.
La. See?
Ms. Debbie Reynolds will also appear during the fest. Meaning fans will get to see two wonderful actresses who danced with Gene Kelly (Ms. Reynolds, of course, hot-footed it in "Singin in the Rain"). Gene Kelly = the most hotcha-hotcha actor in the history of cinema. Quote us, TCM.
There will also be panels and exhibits and all the trappings of a major fest. Plus, Mickey Rooney! In person! More heart fluttery. TCM has been selling a quartet of passes, but individual tickets will be available before each screening. There's some stuff to know regarding this, so you'll want to inform yourself. The price is $20 for "most screenings and events."
We'll note that there are over 70 screenings and events to choose from. So get choosing.
(*Long gone is not to imply modern movies are not good. We're all ILY all over them, too, but looking at the photo of Gene Kelly and Leslie Caron making oogly eyes by the Seine in "An American in Paris" can make one want to send this photo straight to every movie executive in town, with the words PLEASE MAKE MORE MOVIES LIKE THIS on the envelope. Agreed? Agreed.)
Copyright FREEL - NBC Local Media