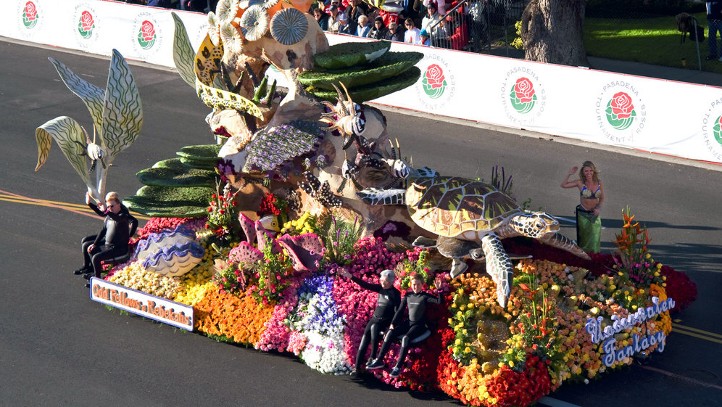 What's your Rosey routine each year?
Millions of people choose to watch the game and/or the parade in their pjs, while several thousand intrepid, well-bundled souls make for Colorado Boulevard in the wee smalls of New Year's Day (or, in the case of 2012, the day after New Year's Day). But there are a lucky few who truly jump into the swim of things.
How? The Tournament of Roses have a few special packages they offer each year. Those packages include two- to five-night accomos at places like the Langham and J.W. Marriott, a reserved game ticket and pre-game lunch, a "deluxe motorcoach roundtrip" to the game, and a tour guide.
Oh yeah. A tour guide to the Rose Bowl. That's living.
There are also a few spots left on a parade-oriented package, too, if you're more a paradist rather than a footballian. Can't we both in this world? We believe so.
A few things to note. There are a lot of bullet points in each package, so you'll want to pore over the site or, better yet, get in touch with Wadie Gravely at the Tournament House. Ms. Gravely says "if we don't do it right, who can?" Well put, Ms. Gravely. Well put.
She also says as soon as the packages are gone, as they will be, she'll stick "sold out" on the site. Helpful.
Now. It's up to you. PJs at home? Or get motorcoached around Pas with a tour guide and all sorts of fancy adds? Why not be as high-styling as the Tournament of Roses is, year-in and year-out?
You can find Wadie Gravely and more info at 626-449-9550 x347.
Follow NBCLA for the latest LA news, events and entertainment: Twitter: @NBCLA // Facebook: NBCLA
Copyright FREEL - NBC Local Media