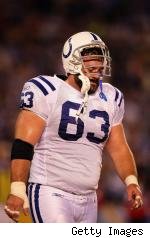 RECREATION VACATION: Long ago, when we were all but tots, we couldn't have imagined that the pursuits we enjoyed on a Saturday afternoon, say, at a friend's cake-laden birthday party, would evolve into a cool slice of nightlife for the grown-up set. True, bowling has always had an evening presence, but rock 'n roll bowling -- not to mention neon bowling and disco bowling and fill-in-the-kooky-blank bowling -- is something entirely different. Ping Pong also has come into its nightlife own, with clubs boasting tables and paddles and nearby bars, so players may buy each other a beer post-match. Next up? Nope, not shuffleboard or tetherball, though we're expecting those scenes to flower on the nightlife landscape soon. Rather, miniature golf is making a sophisticated stand in San Francisco, starting with a 14-hole indoor golf course, complete with a restaurant and a pair of bars.
MEET URBAN PUTT: NorCaler Steve Fox, "a local miniature golf enthusiast and former Editorial Director of PC World," is the club-swinging visionary behind the recreation destination. Mr. Fox and his wife Leslie Crawford had long hosted mini golf benefits at their home, and things took off, like a ball sailing through a small windmill, from there. Set for an April opening, Urban Putt is described as a "high-tech wonderland" rife with tech-quirky touches and state-of-the-art details (as one would expect from a founder who knows his ones and zeroes).
AND, YEP... there shall be food and drink. The Mission District play place will include two bars overseen by the honchos of Bon Vivants and a restaurant from Dane Boryta, formerly of San Francisco's Bottlecap.
AND, YEP... kids are absolutely welcome at Urban Putt, but the age requirement get serious after 8 p.m.: 21-and-over only.
AND, TRULY... we do not sniff at tetherball or shuffleboard or any of the recreations we regularly enjoyed as children hitting the big time, in terms of nightlife cred. And, yes, miniature golf is already pretty sophisticated, if you like hitting small green or blue balls into dinosaur mouths or through wee castles. We're simply saying it is nice to have nightlife options, and definitely if you're someone who likes to *do* while you're out cocktailing it up (versus talk over music in a loud club). Seems like the revolution of doers who still want to get their socializing -- and swinging-of-clubs -- in is very much on the rise.
Copyright FREEL - NBC Local Media