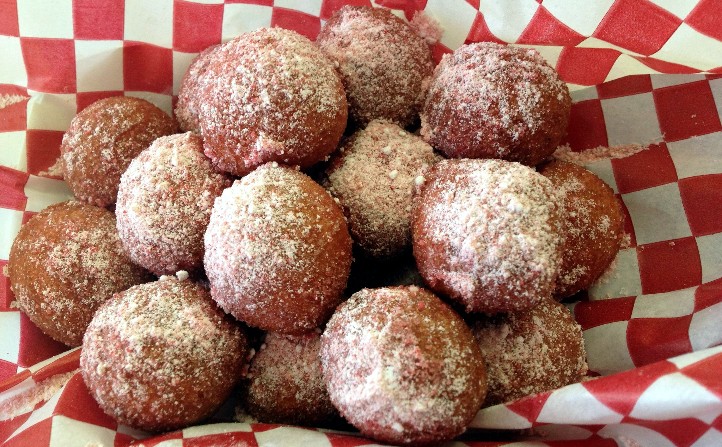 Stop reading this right now.
We need to you pause and go look in your fridge or pantry. Go ahead. We'll wait.
Hi again. Back? Good. Did you happen to see something in your refrigerator or in the cupboard that looked, well, particularly fry-able?
We ask because the Los Angeles County Fair, which is set to kick off at the end of August, has an intriguing but brief contest on. And this is the upshot: Suggest the next food to be deep-fried at Chicken Charlie's, possibly the most famous of the fair's food booths, and maybe win two passes to this year's fair.
If you don't know Chicken Charlie's, surely "deep-fried Kool-Aid," "deep-fried Oreos," "fried Girl Scout cookies," and that sandwich that had Krispy Kreme doughnuts in place of a bun will ring a bell.
The LA County Fair has now asked its Facebook fans to suggest the next foodstuff to be deep-fried. The prize? Two season passes to the 2012 fair plus a parking pass, too. The fair will pass along all the suggestions to Chicken Charlie's and Chicken Charlie's will choose the clever victor.
There are hundreds of responses already. Some choice ones, in our book? Rice Krispies. Right? Totally would work. That deep-fried Nutella French Toast suggestion intrigues, too, but there are many good ones.
Did your own fridge inspire any ideas? Read what you need to on the contest, which wraps on Friday, July 6 at 5 p.m. Who knows? You could be eating your own idea at the 2012 LA County Fair. And you could be inside the fair courtesy of the passes you might win.
Happy deep-fry daydreams, culinary wizards.
Follow NBCLA for the latest LA news, events and entertainment: iPhone/iPad App | Facebook; | Twitter; | Google+; | Instagram; | RSS; | Text Alerts | Email Alerts
Copyright FREEL - NBC Local Media