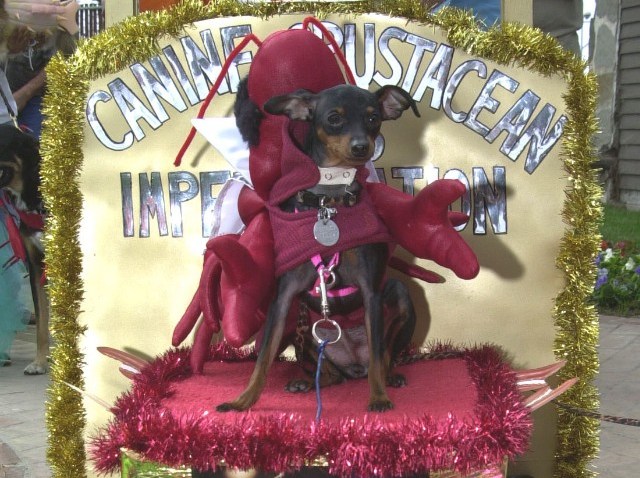 When the Port of Los Angeles Lobster Festival throws down the words "world famous" next to the title of what is arguably its most prominent event, it isn't exaggerating. The World Famous Lobsterdog Pet Parade, which takes place on Saturday, September 19th in San Pedro, gets news coverage here and everywhere. It's been on Rachael Ray's program; travel sites regularly cover it with great fanfare.
Why? Dogs dressed as lobsters. Done. So simple. So right. But not just lobsters. Crawfish, crabs, things that walk sideways and snap peevishly with pinchers. Picture a Chihuahua with eight crabby legs attached to his back. Pups with fishing nets circling their waists. And flippers.
There are a lot of fine pooch parades in the world. Tompkins Square in New York, our own Haute Dog in Long Beach. We're fans of all of 'em. But when costumed dog struts take on themes -- themes like seafood -- we know we're living in a world that still honors whimsy.
So, to do. Go to the Lobster Festival on September 19th and cheer on the crustacean-aping woofers. And, if you're ambitious, think up your own dog parade that has a distinctive theme. Seasons of the year? Famous rock stars? It all works.
Port of Los Angeles Lobster Festival runs September 18th-20th; the Lobsterdog Pet Parade is on the 19th at noon.
Copyright FREEL - NBC Local Media