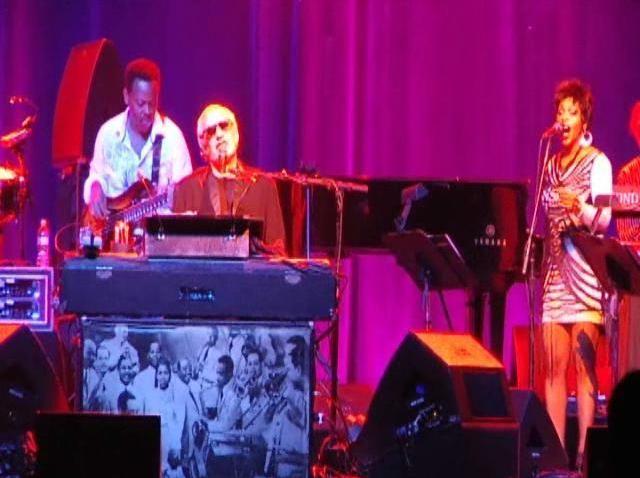 When it comes to rock and roll concerts, a lot has changed over the years. This was put on full display at the Greek Theatre Friday night when the venerable jazz/rock/pop artists Steely Dan performed.
First, there are a lot more bald and graying men attending rock shows than I remember from back in the 70's. And they're nicer. Back in the day, you pushed and shoved your way to get a decent vantage point in a general admission world.
Now, I politely ask the couple sitting in my reserved seats to check their tickets because there must be some sort of mistake. They smile, look at their tickets, and apologize for misreading the seat number.
Another change: There is a lot of conversation I overheard Friday night that I would have never heard 30 years ago.
One balding paunchy man said to his friend:
"I can't see what that picture is on stage. I left my glasses in the car."
An LAPD officer to a buzzed fan:
"No sir. I'm not trying to arrest you. I'm asking you to let your wife drive when you leave here."
Me to my friend:
"God, we're redoing our kitchen, and it's going to bankrupt me."
Certainly these are not the kinds of things rock fans talked about back in the day.
But some things remain the same.
The smell of marijuana was pretty heavy and while it was mostly confined to the restrooms, there were plenty occasions where that distinctive odor, mixed with clove cigarettes and popcorn (yup, munchies are still live!) wafted over the crowd.
By the way, Steely Dan exhibited some wonderful musicianship, playing their entire Aja album start to finish, followed by a mix of their oldest hits, "Reelin' in the Years," and some of their most current, "Everything Must Go," which at about 8 years old is not all that current.
The musicians are balding and graying, added a few extra pounds and few extra wrinkles, but they can still bring it. And even with all the other changes, their sounds remain the reason most of us still show up to listen.