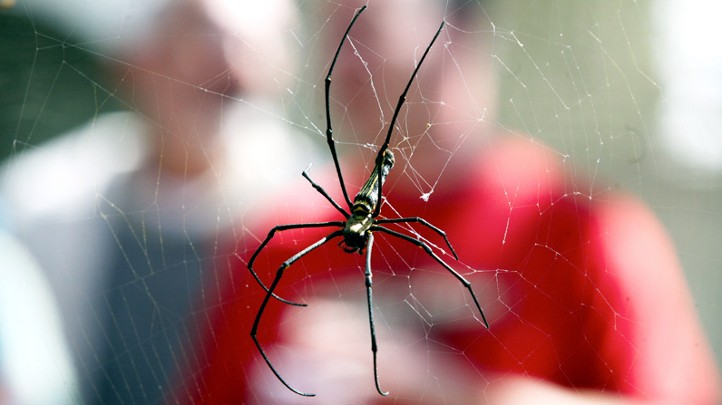 It's nearly a late-summer rite 'round these parts. We're talking about walking into or through a spider web, which, even if you happen to be an arachnid aficionado, has to be one of the skin-crawliest feelings in the world.
The webs are returning in many corners of Southern California, but where they'll be most concentrated, at least for a dazzling six-week run, is the Natural History Museum. The Exposition Park institution announced its upcoming Spider Pavilion, which is set to spin from Sunday, Sept. 23 through Sunday, Nov. 4.
If the idea of walking into an enclosed space with a giant wood spider or common orb weaver gives you the goosebumps -- or spiderbumps, perhaps? -- the institution calls the Spider Pavilion "a comfortable, safe, and immersive environment." Nope, you won't want to encourage any of the eight-legged residents to land on your arm, a la the museum's summertime Butterfly Pavilion, but you can admire the web-sitters from a respectful distance.
By the way, the Natural History Museum site describes the giant wood spider as being as big as "a chocolate chip cookie." Think about walking into that web for a minute or two.
Cost for the Spider Pavilion is three bucks for adults (note that it is a separate ticket from your Natural History Museum entrance).
Oh, and if the aforementioned Butterfly Pavilion is more your speed and less inclined to make you shiver? That's on through Monday, Sept. 3. There's never been a butterfly-spider pavilion, has there? Yeah. Hmm. As interesting as that sounds, we're guessing that might have a bit more drama than needed. We'll stick to them being separate.
Follow NBCLA for the latest LA news, events and entertainment: iPhone/iPad App | Facebook; | Twitter; | Google+; | Instagram; | RSS; | Text Alerts | Email Alerts
Copyright FREEL - NBC Local Media