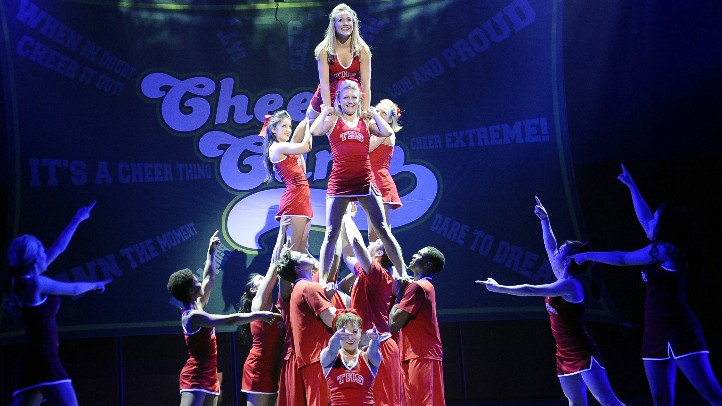 We're pretty certain that someone somewhere has an algorithm or complex system going, a system that can predict what film or book will make the leap to stage musical.
Witches are a good indicator. So are lions. And cheerleaders? It turns out that is the key indicator that a movie might make it to the footlights. "Bring It On," that sassy, sunshiny, catch-phrase-y flick from eleven years back has just kicked off its national tour at the Ahmanson Theatre. Really, when you think about it, it makes sense, though. The film appealed to both teens and adults and it boasts a lot of movement and zazz.
Can you think of a more zazzy film than "Bring It On"? It's hard.
The new musical, which follows competing California cheer squads going for all the glory, features a whole book of songs that weren't in the movie (of course; the movie was not a musical). But the film's zazzy humor is intact; writer Jeff Whitty, the man behind "Avenue Q," penned the production. In fact, the team behind "Bring It On" is a veritable Broadway who's who.
Note that the songs have not replaced the film's muscular athleticism. There are on-stage pyramids, leaps, and tumbles. Thinking. Have we seen a human pyramid at the Ahmanson before? Or in any theater? It's time has clearly come.
The show runs through Dec. 10. No need to arrive with your pom-poms, but we expect you'll depart the theater full of pep. You'll definitely be doing jazz hands for days to come. Because, fact? Once you start with the jazz hands it is pretty tough to stop.
Get ticket information at the Ahmanson.
Follow NBCLA for the latest LA news, events and entertainment: Twitter: @NBCLA // Facebook: NBCLA
Copyright FREEL - NBC Local Media