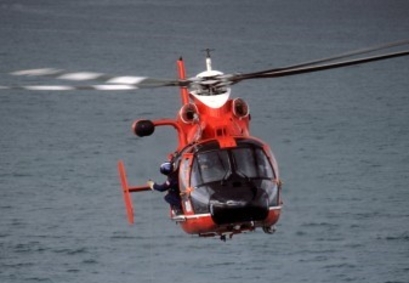 The Coast Guard rescued two kayakers last night after they were reported missing in wind-churned waters off the Palos Verde Peninsula.
The two men had set off Sunday afternoon in a tandem kayak from Isthmus Harbor at Santa Catalina Island. When they didn't arrive at their Redondo Beach destination by 8:00pm friends contacted the Coast Guard.

A Coast Guard Helicopter and the Coast Guard Cutter Blacktip immediately launched to begin search and rescue efforts.
Shortly before 10:00pm, as the helicopter was about to return to its base, Petty Officer Third Class Karol Garrison, described as a sharp-eyed rescue swimmer on board the chopper, noticed something in the distance. It turned out to be the kayakers. The Cutter Blacktip hoisted the two mean aboard and returned them safely to San Pedro.
Winds above 25 miles an hour, choppy waters and six-foot swells were hindering the kayakers' progress, but they were lucky that a bright, full moon illuminated their position.
The Coast Guard says Southern California is currently experiencing above normal surf conditions and small craft advisories are in effect. They recommend that inexperienced boaters, especially ones in small vessels, stay out of the water in these conditions.
The Coast Guard has not released the names or home towns of the kayakers but say they are 26 and 30 years old.