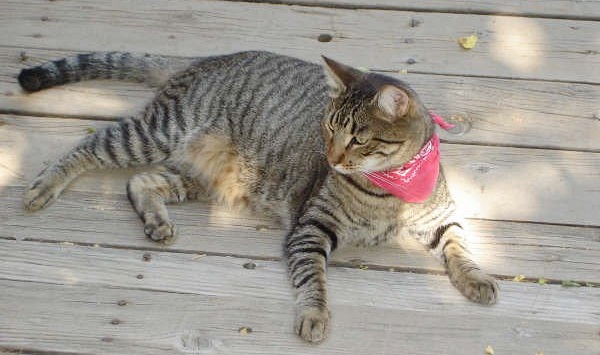 DID YOU SEE THAT? If you've ever ventured to a stretch of creaky structures, the kind of buildings that are said to be rife with things that go bump in the night, you know that you keep an ear and an eye out for things that dart by, in a blur. Could that rattling across the way be a ghost? Could that shaking door be a spirit? And is that object moving by my foot perhaps a phantom? Well, there is one answer to these paranormal queries, at least where Silver City Ghost Town is concerned. The close-to-Lake-Isabella clutch of buildings, the very jails and saloons that once populated real old towns of the area back in the 1800s, is rumored to be quite haunted. So much so that ghost tours during the warmer half of the year are a regular thing, with aficionados of all things ethereal turning out to see what spirits they might come across. But there is one living creature that is very much present in the town, a beastie that has so many fans that he has a Facebook page in his honor: Izzy Theghosttowncat. Now ghost hunters not only show up at the Kern County attraction to search for wraiths by the light of lanterns, but to visit with the friendly feline, a cat that will give visitors a tour of the place, says Silver City honcho J. Paul Corlew.
IZZY LEADS THE WAY: Many a cat person will correctly claim their kitty is especially curious, but to find a feline who is out-and-out involved with strangers, from the get-go, with no warm-up period required, is a bit of a rarity. But Izzy -- he's a boy, with a moniker that reflects the nearby lake -- stays with visitors throughout their stroll by the vintage buildings. The handsome cat with the red kerchief will occasionally stretch out on the wooden boardwalks, or wander into one of the buildings via a hole in the wall, but he's never far from the ghost hunters and daytime guests. Is he, in fact, one of California's most famous cats? He's certainly among the most beloved, seeing the many photographs that fans post on his page after their Silver City sojourn.
COULD OTHER PLACES... that welcome tourists also have a resident animal to welcome humans and make them feel at home? It's a rarer sight, nowadays, but Izzy Theghosttowncat lends a homey quality to the historic plot of collected and reclaimed buildings. Some, might ask, if he once called one of those buildings home, centuries ago, as these are the ghosty questions that float about the phantom-famous attraction. Even if Izzy is not a former resident, he's as sweet and as charming a host, human or otherwise, as is found anywhere.
Copyright FREEL - NBC Local Media