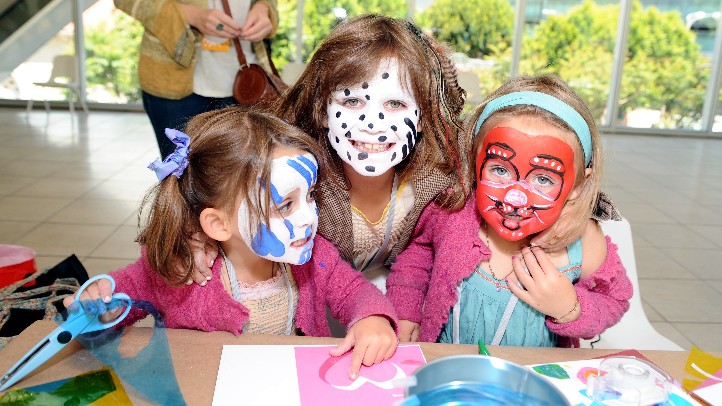 What was art camp, or a special day of art, like for you when you were just a pipsqueak?
Did you make stuff with yarn and pipe cleaners and then wait out on the curb for your mom to pick you up?
We probably all went the pipe-cleaner-route at some point. But the Hammer Museum's Kids' Art Museum Project -- call it K.A.M.P. for short -- will take the pipe cleaners and the yarn and ideas and the creative sparks and go a bit further when it unfurls in the Hammer courtyard on Sunday, May 20.
How much further? Well, Will Ferrell will be there, reading for kids. So will other a bunch other celebs. (Hello, funny Molly Shannon.) And a whole caboodle of accoladed artists will be on hand to oversee the messy, busy-busy project tables. People like Hollyflora, Oliver Opie, and Koki Tanaka will help burgeoning artists work with paint and clay and paper and photographs, we hope, fingers crossed, a pipe cleaner or two.
Maybe this was exactly like the art camps of your youth and, if so, you are lucky, indeed. How great for aspiring artists to hobnob with creative sorts who have headlined gallery exhibits and fashioned their own milieu.
Which leads us to hope some kid at the Hammer will ask some artist about his "milieu" and maybe his "oeuvre," too. Kids today. So smart.
A ticket is $125 and lends a hand to the Hammer's kid-focused initiatives. And any initiative that gets children making stuff, in addition to looking at stuff on museum walls, is certainly a good one.
Follow NBCLA for the latest LA news, events and entertainment: iPhone/iPad App | Facebook; | Twitter; | Google+; | Instagram; | RSS; | Text Alerts | Email Alerts
Copyright FREEL - NBC Local Media