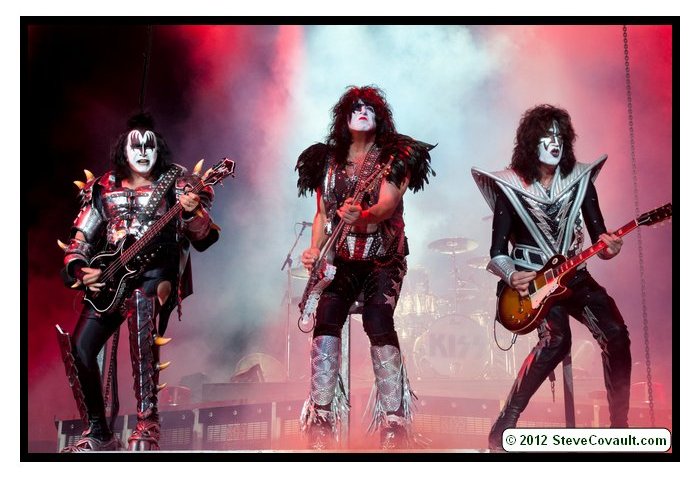 Best break the news to your coffee table that a new book is coming its way. A book that is, let's be honest, probably larger than the table itself.
If you're a KISS fan you probably have caught rockin' wind of "KISS Monster," a tome that is "tall as a guitar" and sports ten different covers. The band's mega new book, which just debuted on Tuesday, Aug. 21, has the "launch price" of $4,250.
We'll just type that again: $4,250. It does come with free delivery, we'll add, and there will only be 1,000 copies sold.
Now, the nitty-gritty of one very huge book: "Every signature page is signed by Paul Stanley, Gene Simmons, Tommy Thayer, and Eric Singer." There are special messages "to the fans," in the book, mondo photos, beautiful book-making craftsmanship, and loads of the out-sized, stagecraft-cool stuff that KISS fans have come to want and expect over the decades.
The band itself'll swing by the Viper Room on the afternoon of Tuesday, Aug. 21 to celebrate, says kissonfire.net.
Here's food for thought, KISS Army members: The book'll be delivered by Dec. 31 of this year, should you purchase it, meaning you could well have it as a holiday gift for the #1 rocker in your heart. But our question is this: Where will you hide your surprise gift? We don't think it'll fit on the top of the closet or in the linen cupboard. Best start planning that one before you place your order.
Follow NBCLA for the latest LA news, events and entertainment: iPhone/iPad App | Facebook; | Twitter; | Google+; | Instagram; | RSS; | Text Alerts | Email Alerts
Copyright FREEL - NBC Local Media