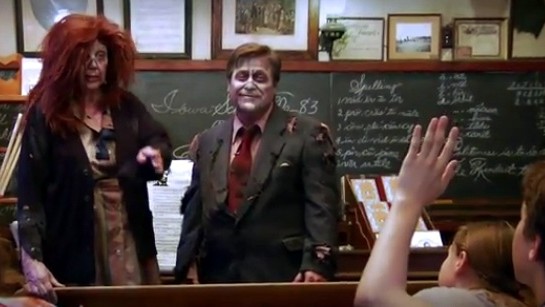 Awards and certificates and accolades are important in education, specifically when teachers are honored; are you always cheered to walk into a classroom and see a shiny apple trophy on a prospective educator's desk? Of course.
But when accolades originate with a teacher's students? It isn't a bad idea that they have a fun edge, that they're meaningful to the kids' world and to things that they love. Kids like Halloween, generally, and theme parks? Yep. So when Knott's Berry Farm throws a teacher-related contest in honor of its annual Halloween Haunt -- which celebrates its 40th this year, we should mention -- you can bet a number of students will be game to participate in this particular spotlight-their-teacher moment.
The idea behind it? Kids nominate a teacher they adore to be made over as a monster by the ace Knott's Scary Farm make-up artists. Spooky cosmetics, creepy fangs, hair, the works. They do need to have their principal sign a consent form, and they need to put together a slide show or video about their favorite teacher and why he or she deserves this offbeat but good-hearted accolade.
And, nope, the winning teacher will not be whisked away to the Buena Park theme park for the makeover, only returning with photos; the school will get to see the results.
It's a pretty cute contest, but, more than that, it is a teacher accolade that relates to something in the kids' world. We bet the winner will have a good sense of humor about it, too, playing the part for their students.
Knott's Berry Farm's Halloween Haunt debuts on Friday, Sept. 21. The deadline for students' to submit their materials to the contest is Monday, Oct. 8.
Follow NBCLA for the latest LA news, events and entertainment: iPhone/iPad App | Facebook; | Twitter; | Google+; | Instagram; | RSS; | Text Alerts | Email Alerts
Copyright FREEL - NBC Local Media