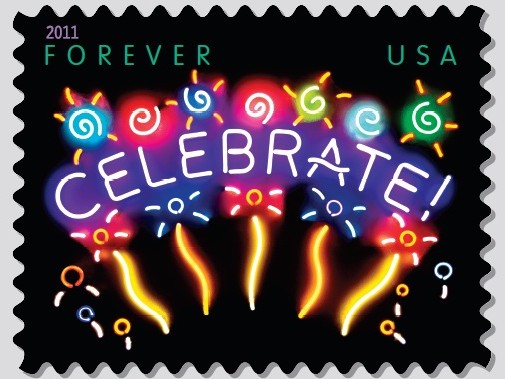 Granted, Los Angeles doesn't own the concept of neon. But we are the home of the Museum of Neon Art -- which is actually jumping to a big new space in Glendale in 2012 -- and we do boast many fine, night-bright examples of tube-based beauty on signs across the city.
And now we have one more neon feather -- or, erm, neon tube -- in our collective civic cap: Michael Flechtner, a local neon artist, has created the newest Forever stamp. Yep, it is neon -- the name is Neon Celebrate! -- or rather neon-esque.
No, the stamp does not light up, but we will await the magic day when stamps can, and do. Seems very "Blade Runner"-esque in a way, and, of course, 2019 isn't far off.
The U.S. Postal Service and the Museum of Neon Art are welcoming the bright, cheerful, LA-born stamp on Saturday, May 7 with postage-nice release party at the Green at the Americana. Time is 4 p.m., and it'll last for about two hours. "Indicia-stamped envelopes signed by the artist" will be for sale, says the museum, in addition to the stamps. The original artwork created by Mr. Flechtner will also be up for neon-loving, stamp-using enthusiasts to admire.
And isn't that every last one of us?
If you can't make the Americana party, fear not; bet you'll be seeing the Neon Celebrate! for years to come, seeing as it is indeed a fabled Forever stamp.
Copyright FREEL - NBC Local Media